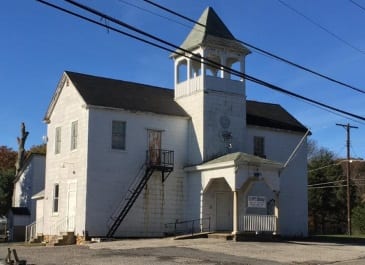 A GoFundMe page has been established to help preserve an historic Upper Falls landmark.
Representatives from the Independent Order of Odd Fellows Lodge  175 say their insurance carrier has required them to make mandatory repairs to the building in order to keep their insurance coverage.
Should they fail to make the required repairs, their insurance will be cancelled and the lodge will be forced to close, most likely resulting in the sale of the property.
The required repairs consist of a new roof, repairs to exterior siding, repairs to steps and railings, and repairs to walkways and parking lot.
They say their goal is to raise at least $25,000 by August 2018.
Advertisement
The Maryland Historical Trust dates Upper Falls I.O.O.F. Lodge 175 as having been built around 1850. There are additional historical records and publications referencing the building at its location as early as 1800. The building was erected in three sections. The first and oldest section of the building is the original, two-story structure with bell tower. Later, additions were added to the original building which included the hall, stage, and kitchen areas.
The Independent Order of Odd Fellows is a 501(C)(8) fraternal non-profit organization.
The historic lodge is located at 7801 Bradshaw Road in Upper Falls.
To learn more or to contribute, visit the GoFundMe page by clicking here.
Facebook Comments