BALTIMORE, MD—GasBuddy has released the results of its annual summer travel survey revealing that, even with record high gasoline prices, 58% of Americans intend to road trip this summer, a rise from last summer, when gas prices were nearly $1.50 per gallon lower.
While the high prices may not stand in the way of Americans summer travel plans, nearly two-thirds have yet to confirm their plans, with 38% saying that high inflation is leading to difficulty in planning summer trips.
The average gas price in the U.S. recently topped $4.50 per gallon following a short reprieve in April, but has recently reached new all-time highs. Record-breaking gas prices and general inflation are affecting Americans' desire to travel with only a one percentage point increase in travel intent year over year, and still 18% lower than 2019's pre-pandemic level. Gas prices on Memorial Day weekend are forecast to be about $4.60 per gallon, a 51% increase from last year. GasBuddy expects the average price from Memorial Day to Labor Day to be $4.40 per gallon nationally, though significant events could raise or lower the outcome.
When asked about inflation's effects on travel plans, 70% said their summer travel plans have been affected by high gas prices (an increase of 24% over 2021). More than a third indicated that high inflation has made planning more difficult, and the majority (65%) are taking only one or two road trips.
The most common amount of time traveled by car will be between two to three and over five hours. Memorial Day Weekend (47%) will be the most popular travel weekend followed by Independence Day (33%) and Labor Day (31%).
"Against a backdrop of gas prices that have continued to set new records ahead of Memorial Day, Americans have been resilient in their desire to hit the road, but we're certainly seeing increased hesitancy due to rising prices at the pump. Soaring inflation has led to uncertainty over rising costs," said Patrick De Haan, head of petroleum analysis for GasBuddy. "The COVID factor is still present, but has been dwarfed this year by Americans' concern over high gas prices and dwindling affordable travel options to make use of best months of the year."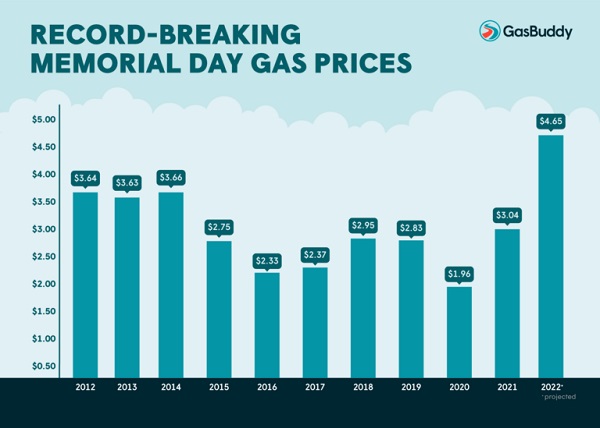 AAA, meanwhile, predicts 39.2 million people will travel 50 miles or more from home this Memorial Day weekend. This is an increase of 8.3% over 2021, bringing travel volumes almost in line with those in 2017. Air travel continues to rebound, up 25% over last year, the second-largest increase since 2010.
"Memorial Day is always a good predictor of what's to come for summer travel," said Paula Twidale, senior vice president, AAA Travel. "Based on our projections, summer travel isn't just heating up, it will be on fire. People are overdue for a vacation and they are looking to catch up on some much-needed R&R in the coming months."
Air travel volume, which began to rally last Thanksgiving, will hit levels just shy of 2019 with 3 million people expected to take to the skies this Memorial Day weekend. In fact, the percentage of people traveling by air will surpass 2019 levels with 7.7% of travelers choosing air travel as their preferred mode (it was 7.5% in 2019).
"Air travel has faced several challenges since the beginning of the year," continued Twidale. "With the type of volume we anticipate, we continue to recommend the safety net of a travel agent and travel insurance. Both are a lifesaver if something unexpectedly derails your travel plans."
Roads will be busy
INRIX predicts drivers will encounter the longest travel delays before the holiday weekend, particularly during the afternoons on Thursday, May 26 and Friday, May 27. Drivers in major U.S. metros could experience double the travel times compared to a normal trip.
"Even with a significant increase in gas prices, we expect a large jump in holiday driving compared to the last few years", says Bob Pishue, Transportation Analyst, INRIX. "Drivers should expect congestion on major roadways around big cities and popular destinations. Knowing when and where congestion will build can help drivers avoid the stress of sitting in traffic."
Daily Worst and Best Times to Travel
Day
Worst Time
Best Time
Thursday
1:00-8:00pm
Before 6:00am or After 9:00pm
Friday
12:00-7:00pm
Before 7:00am or After 9:00pm
Saturday
1:00-6:00pm
Before 10:00am
Sunday
1:00-4:00pm
Before 10:00am
Monday
1:00-4:00pm
Before 11:00am
Source: INRIX
Photo by Taras Makarenko from Pexels
Facebook Comments