TOWSON, MD—Many Baltimore County Public Library branches will offer a new service beginning next month.
As of October 1, the library will have a social worker on premises.  This new team member will aim to build relationships with those most vulnerable in Baltimore County and connect them with important resources.
A social worker will be available to provide free, one-on-one advising and guidance for decision making, as well as to connect customers with resources and referrals.
Get answers to questions and find resources for a variety of topics, including:
Access to public assistance, including:

Childcare subsidy
Financial
Food stamps
Medical

Domestic violence
Grief and loss support
LGBTQIA+ support
Mental health
Parenting resources
Senior resources
Substance abuse
Youth services
To schedule a meeting, contact the social worker during library hours by calling 443-862-9348 or emailing socialworker@bcpl.net.
Story continues below
Important Note: If you are experiencing a crisis or mental health emergency, do not wait to hear back from the social worker. Call 911 or the 24/7 Baltimore County Crisis Response line at 410-931-2214.
In-person meetings are offered on a first-come, first-served basis at the following branches and times: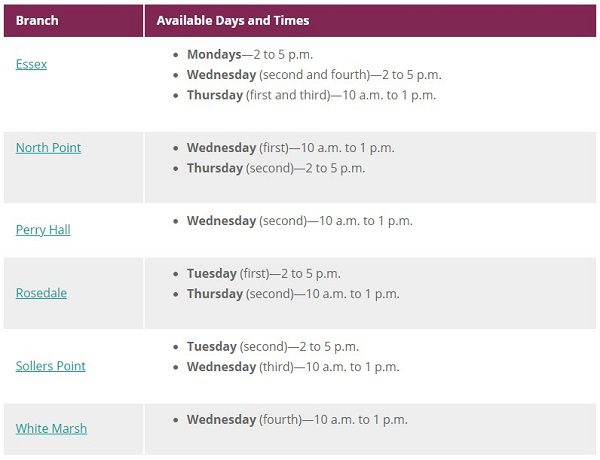 Photo by Iñaki del Olmo on Unsplash
Facebook Comments