NOTTINGHAM, MD—The National Weather Service has issued a Flash Flood Watch for Baltimore County, Harford County, and Baltimore City.
The watch will be in effect from noon on Thursday through the evening hours.
Forecasters say a cold front will drop southward into the area on Thursday. This front will become the focus for slow moving thunderstorms on Thursday afternoon and evening. Due to the slow motion and ample moisture in the atmosphere, storms could drop 2 to 4 inches of rain in a short period of time, resulting in flash flooding.
Story continues below
Heavy rainfall in a short amount of time can result in rapid rises of water in streams, creeks, and urban areas.
A Flash Flood Watch means that conditions may develop that lead to Flash Flooding. Flash Flooding is a very dangerous situation. Residents should monitor later forecasts and be prepared to take action should Flash Flood Warnings be issued.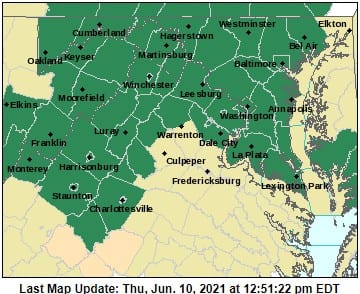 Facebook Comments