PARKVILLE, MD—The Baltimore County Police Department's Parkville Precinct held a ceremony this week to present their 2019 and 2020 Officer of the Year Awards.
Officer Annette Savoy (2019) and Officer Erik Jenkins (2020) each took home the award.
BCoPD said the following about each recipient:
Officer Jenkins
"As a 13-year veteran, Officer Jenkins maintains a high level of criminal and traffic enforcement and actively patrols his post for criminal activity. He sets a fine example for younger officers on the shift by maintaining high visibility throughout his shift as well as always backing up other officers and assisting with their investigations.
"Officer Jenkins is known throughout the precinct for his tenacity and thoroughness in his investigations, no matter how small or complex. This is evident in his exceptionally high level of case clearances."
Officer Savoy
Story continues below
"As a 12-year veteran and a midnight shift officer, Officer Savoy consistently leads her squad in enforcement and efficiency. A large portion of her tour of duty is committed to crime prevention during the overnight hours. Officer Savoy actively patrols her post for criminal activity and traffic enforcement. In addition to the statistics listed below, Officer Savoy has attended community meetings as well as assisted with a Juvenile Crime Initiative meeting with the Community Resources Bureau."
In addition, Officer Savoy has notched:
16 Clearances
30 Arrests
33 Serious Traffic Clearances
17 Arrests
12 DUI Arrests
220 Citations
145 Warnings
711 Business Checks
Senator Kathy Klausmeier , Delegate Joseph Carroll Boteler, Delegate Harry Bhandari, and Delegate Carl Jackson were on-hand to present citations from the Maryland General Assembly.
Fifth District Councilman David Marks also attended the event.
"Congratulations to Officer Annette Savoy and Officer Erik Jenkins on being named the 2019 and 2020 Officers of the Year by the Parkville Police Community Relations Council," said Councilman Marks. "We appreciate all who are making our neighborhoods safer!"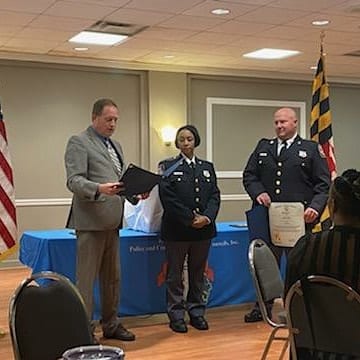 Facebook Comments