NOTTINGHAM, MD—Police are investigating a pair of home deception burglaries that were reported in the Nottingham area.
Around 3 p.m. on Wednesday, February 17, an individual deceived the homeowner in order to gain entry into a home in the 300-block of Sipple Avenue in Overlea/Nottingham (21236). The suspect distracted the victim while searching through his belongings. Police say nothing was stolen.
At 10 a.m. on Friday, February 19, an individual distracted a homeowner while another suspect entered a home in the 9600-block of Dundawan Road in Perry Hall/Nottingham (21236). The suspects stole jewelry then fled the scene.
The Baltimore County Police Department reports that officers have seen a recent increase in home deception burglaries.
These types of burglars pose as roofers, tree trimmers, even utility workers. Most recently, the criminals have worn bogus ID badges when they've approached unsuspecting homeowners.
The deceptive burglars claim there's a problem with a utility inside the victim's home and they need to inspect it. As one criminal attempts to distract the homeowner, another grabs cash, jewelry, even electronics from inside the home.
The average age of the victim in these incidents is 81-years-old, according to police.
In the recent string of burglaries, the suspects have been driving a gray, full-sized truck.
Additional safety tips may be found online here and in the graphic below.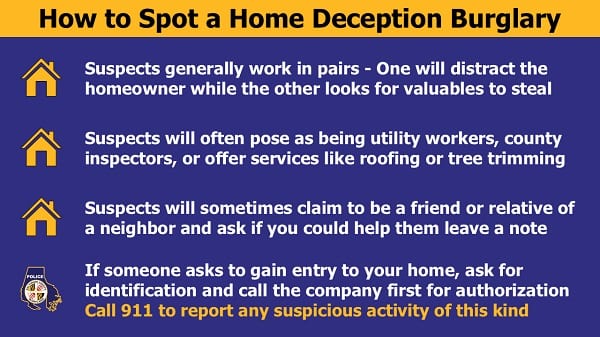 Facebook Comments