UPDATE: See photos from this weekend's food donation here.
Original story below…
——
NOTTINGHAM, MD—Two local communities are getting into the holiday spirit by helping the less fortunate.
Perry Hall's Moores Meadows neighborhood organized a food drive that will provide more than 80 lunches to needy households, according to Councilman David Marks.
In addition, Rosedale's Central Christian Assembly is partnering with Farmers to Family to organize a grocery giveaway.  Over 120,000 pounds of groceries will be given away over a five-week period.
The giveaway will be a drive-through, touch-free experience.
For more information, email info@cclife.tv or see the graphic below.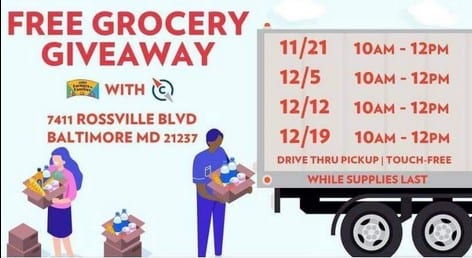 Facebook Comments