UPDATE: View the latest NottinghamMD.com zip code reports here.
Original story below…
——
NOTTINGHAM, MD—The Maryland Department of Health on Friday reported that statewide COVID-19 hospitalizations have now dropped for 23 consecutive days.
As of Friday morning, there have been 63,548 cases of novel coronavirus in Maryland.  The statewide positivity rate has now fallen to 5.21%, down from Thursday's 5.43%. Baltimore County's positivity rate stands at 6.48%, largely unchanged from Thursday's 6.47%.  Harford County's positivity rate stands at 2.94%, an increase from Thursday's 2.64%.
There have been 2,901 related deaths and 648 individuals are currently hospitalized…a decrease of 12 patients since Thursday.  COVID-19 hospitalizations in Maryland have now fallen for 23 consecutive days. There have been 390,121 negative test results.
Baltimore County has confirmed 7,403 COVID-19 cases and and 420 deaths while Harford County has confirmed 1,041 cases and 58 deaths (editor's note: for the sake of accuracy, "probable" deaths are not included in the totals below).  Of Baltimore County's 420 COVID-19 deaths, 290 (around 70%) have occurred within nursing home communities.
Case breakdown by zip code in NottinghamMD.com's coverage area of northeastern Baltimore County and southern Harford County:
21040 (Edgewood) – 158 cases
21047 (Fallston) – 29 cases
21057 (Glen Arm) – 23 cases
21085 (Joppa) – 82 cases
21087 (Kingsville) – 17 cases
21128 (Perry Hall) – 49 cases
21156 (Upper Falls) – 0 cases
21162 (White Marsh) – 19 cases
21206 (Overlea) – 522 cases
21220 (Middle River) – 378 cases
21221 (Essex) – 360 cases
21234 (Parkville/Carney) – 537 cases
21236 (Nottingham) – 215 cases
21237 (Rosedale) – 366 cases
Previous zip code reports can be viewed here.
Story continues below
Last week, Governor Larry Hogan announced additional reopenings that would be permitted under Stage Two of the Maryland Strong: Roadmap to Recovery.
Effective at 5 p.m. on Friday, June 12, indoor dining resumed at Maryland restaurants at up to 50% capacity. Outdoor amusements, outdoor pools, rides, miniature golf, and go-kart tracks tracks also resumed with appropriate health and safety protocols.
Effective at 5p.m. on Friday, June 19, gyms and dance & martial arts studios will reopen at up to 50% capacity, along with casinos, arcades, and malls.  Pool halls, VFWs, American Legion posts, and other social clubs can also reopen at up to 50% capacity at 5 p.m. on June 19th.
Baltimore County and Haford County have each aligned with the state and allowed additional reopening.
"Maryland has now conducted 544,072 COVID-19 tests," Governor Hogan said on Friday morning. "The statewide positivity rate has dropped to 5.41% and total hospitalizations have fallen to 648. Free testing is taking place today at the Baltimore Convention Center and Six Flags D.C., as well as nearly 170 other sites statewide."
Additional data and charts can be viewed below.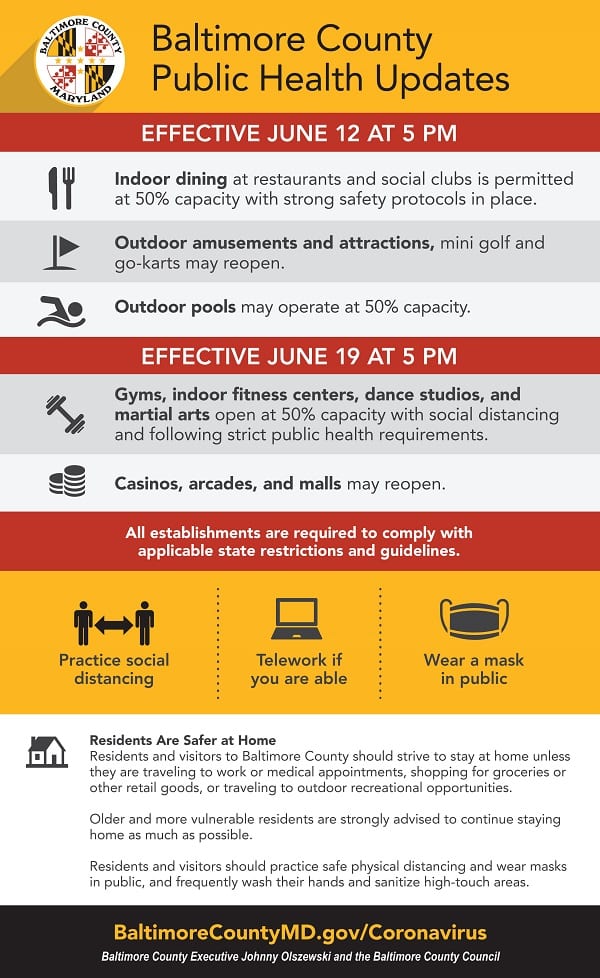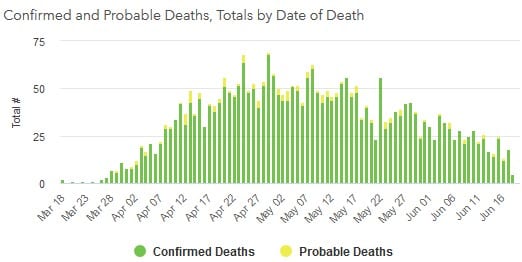 Facebook Comments