UPDATE: Janifer was arrested on Monday evening, June 1st.
Original story below…
——
BALTIMORE, MD—The Baltimore Police Department on Friday announced a combined reward of up to $19,000 for information leading to the arrest of Antonio Oliver Janifer, who is wanted on multiple charges related to the shooting of a police officer earlier this week.
The reward is a collaborative effort by the Baltimore field offices of the Bureau of Alcohol, Tobacco, Firearms and Explosives (ATF), Drug Enforcement Administration (DEA), Federal Bureau of Investigation (FBI), and Metro Crime Stoppers.
At around 9:30 p.m. on Tuesday, May 26, Officer Joshua Jackson was on routine patrol when he spotted a vehicle driving erratically near the intersection of E. Pratt Street and Light Street. Officer Jackson believed the driver of that vehicle, now identified as Janifer, was possibly driving under the influence. As he attempted to stop the vehicle, it sped away.
Officer Jackson followed the vehicle for a short distance, then the suspect vehicle crashed and the driver fled on foot. Officer Jackson gave chase and Janifer, in response, fired at him, striking the officer in the lower abdomen. Janifer then carjacked a vehicle and fled the scene.
Officer Jackson was transported to the University of Maryland's Shock Trauma Center with a non-life threatening gunshot wound and was treated and released.
Janifer is a 28-year-old black male with brown hair styled in long locks and brown eyes. He is 6'1", weighs approximately 210 lbs., and has numerous tattoos, including designs covering his neck such as dollar signs on his throat.
An arrest warrant was issued for Janifer on May 27, detailing 13 charges, including attempted first-degree murder; attempted second-degree murder; use of a firearm in the commission of a felony/crime of violence; assault in the first-degree; assault in the second-degree; assault of a law enforcement officer; reckless endangerment; and numerous other firearm-related charges.
Janifer is a previously convicted felon who is prohibited from possessing firearms and should be considered armed and dangerous. Anyone with information should call Metro Crime Stoppers at 1-866-7LOCKUP or 911.
"The Baltimore Police Department would like to thank our federal partners for their dedicated work in assisting us in apprehending the individual responsible for shooting one of our officers," said Commissioner Michael Harrison. "We are extremely grateful for this partnership and in getting us one step closer to ensuring that justice will be served."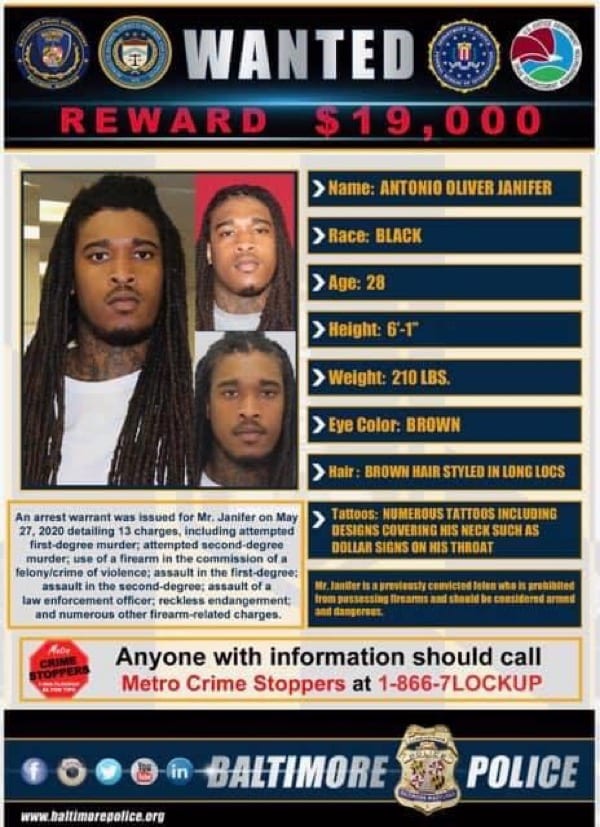 Facebook Comments