UPDATE: View the latest NottinghamMD.com zip code reports here.
Original story below…
——
NOTTINGHAM, MD—The Maryland Department of Health on Tuesday  reported that COVID-19 hospitalizations ticked up slightly over the past 24 hours, ending an almost two-week-long streak of declining or flat numbers.
As of Tuesday morning, there have been 47,687 cases of novel coronavirus in Maryland, an increase of 535 cases since Monday.
There have been 2,217 related deaths, 8,179 total hospitalizations, and 1,315 individuals are currently hospitalized…an increase of 36 patients since Monday. It has been almost three weeks since hospitalizations peaked in Maryland on or around May 6th, according to the chart below from MDH.
There have been 206,800 negative test results and 3,334 individuals have been released from isolation. Of Maryland's 2,217 deaths, 1,131 (more than 50 percent) have been in congregate facility settings (nursing homes).
Baltimore County has confirmed 5,498 COVID-19 cases and and 297 deaths while Harford County has confirmed 795 cases and 45 deaths (editor's note: for the sake of accuracy, NottinghamMD.com is not including deaths categorized as "probable" in these totals).
In Baltimore County, approximately 70% of the county's COVID-19 deaths have occurred within nursing home communities.
Case breakdown by zip code in NottinghamMD.com's coverage area of northeastern Baltimore County and southern Harford County:
21040 (Edgewood) – 109 cases
21047 (Fallston) – 28 cases
21057 (Glen Arm) – 14 cases
21085 (Joppa) – 62 cases
21087 (Kingsville) – 11 cases
21128 (Perry Hall) – 37 cases
21156 (Upper Falls) – 0 cases
21162 (White Marsh) – 9 cases
21206 (Overlea) – 372 cases
21220 (Middle River) – 288 cases
21221 (Essex) – 261 cases
21234 (Parkville/Carney) – 405 cases
21236 (Nottingham) – 147 cases
21237 (Rosedale) – 282 cases
Previous zip code reports can be viewed here.
The zip codes with the highest case counts are as follow, according to the Maryland Department of Health:
1. 20783, 1,715 cases, Prince George's
2. 20906, 1,101 cases, Montgomery
3. 20706, 933 cases, Prince George's
4. 20902, 914 cases, Montgomery
5. 21224, 831 cases, Baltimore City/Baltimore
6. 20784, 821 cases, Prince George's
7. 20904, 781 cases, Montgomery
8. 20782, 771 cases, Prince George's
9. 20737, 681 cases, Prince George's
10. 20903, 679 cases, Montgomery
Baltimore County partially reopened for business at 9 a.m. on Friday morning, with retail establishments limited to 10 people or less.  Businesses must adhere to the Phase One guidelines outlined in Governor Larry Hogan's Maryland Strong: Roadmap to Recovery.  Barbershops and hair salons are now open by appointment only.
Advertisement
Baltimore County Executive Johnny Olszewski has reiterated that there is no stay-at-home order in place in Baltimore County, however residents are strongly encouraged to remain at home.
Harford County has fully entered Phase One of the Roadmap to Recovery.  All public events in Baltimore City have been cancelled through August 31st.
Additional charts and data below…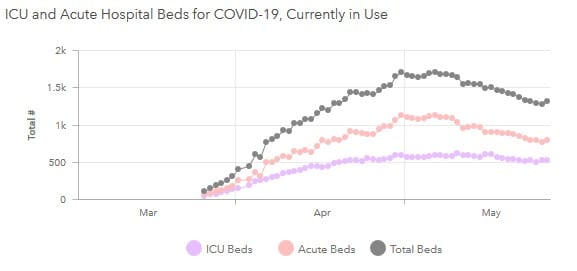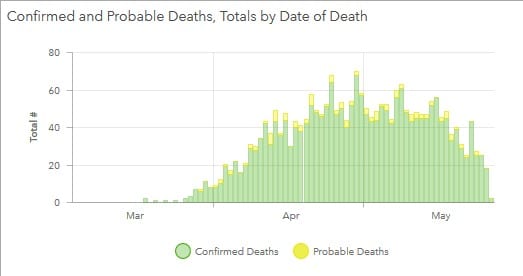 Facebook Comments