UPDATE: View the latest NottinghamMD.com zip code reports here.
Original story below…
——
NOTTINGHAM, MD—The Maryland Department of Health on Friday reported that there have now been over 44,000 COVID-19 cases in Maryland.
As of Friday morning, there have been 44,424 cases of novel coronavirus in Maryland, an increase of 893 cases since Thursday.
There have been 2,092 related deaths, 7,634 total hospitalizations, and 1,329 individuals are currently hospitalized…an decrease of 45 patients since Thursday. This marks the tenth consecutive day that COVID-19 hospitalizations have either fallen or remained relatively flat in Maryland. The data in the charts below would seem to indicate that hospitalizations in Maryland peaked on or around April 30th.
There have been 183,478 negative test results and 3,243 individuals have been released from isolation. Of Maryland's 2,092 deaths, 1,131 (more than 50 percent) have been in congregate facility settings (nursing homes).
Baltimore County has confirmed 5,170 COVID-19 cases and and 277 deaths while Harford County has confirmed 746 cases and 43 deaths (editor's note: for the sake of accuracy, NottinghamMD.com is not including deaths categorized as "probable" in these totals).
In Baltimore County, 205 of the county's 277 deaths, or 74%, have occurred in nursing home communities.
Case breakdown by zip code in NottinghamMD.com's coverage area of northeastern Baltimore County and southern Harford County:
21040 (Edgewood) – 100 cases
21047 (Fallston) – 26 cases
21057 (Glen Arm) – 0 cases
21085 (Joppa) – 57 cases
21087 (Kingsville) – 11 cases
21128 (Perry Hall) – 35 cases
21156 (Upper Falls) – 0 cases
21162 (White Marsh) – 8 cases
21206 (Overlea) – 354 cases
21220 (Middle River) – 263 cases
21221 (Essex) – 226 cases
21234 (Parkville/Carney) – 384 cases
21236 (Nottingham) – 136 cases
21237 (Rosedale) – 265 cases
Previous zip code reports can be viewed here.
Baltimore County partially reopened for business at 9 a.m. on Friday morning, with restrictions in place.  Businesses must adhere to the Phase One guidelines outlined in Governor Larry Hogan's Maryland Strong: Roadmap to Recovery.  Barbershops and hair salons are now open by appointment only.
Despite Governor Hogan's announcement that churches in Maryland could begin holding religious services at 50 percent capacity, religious institutions in Baltimore County are still limited to gatherings of ten people or less, whether indoors or outdoors.  Services where individuals remain in their vehicles are permitted.
Baltimore County Executive Johnny Olszewski reiterated this week that there is no stay-at-home order in place in Baltimore County, however residents are strongly encouraged to remain at home.
Governor Hogan announced on Thursday that the state's robust contact tracing operation should be fully online by next week.
Story continues below
Harford County entered Phase One of the Roadmap to Recovery last week.  Baltimore City has cancelled all public events through August 31st.
Additional charts and data below…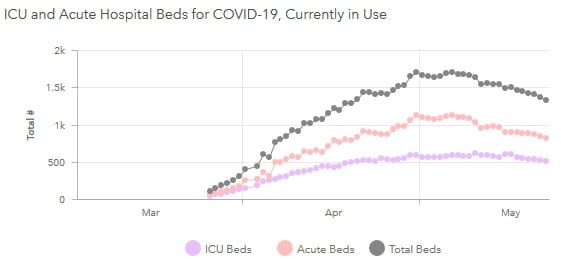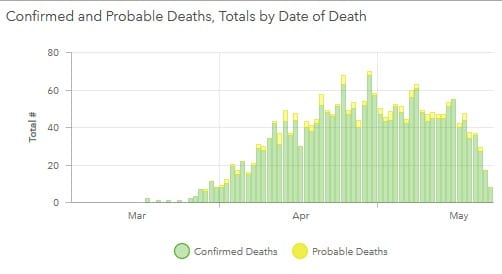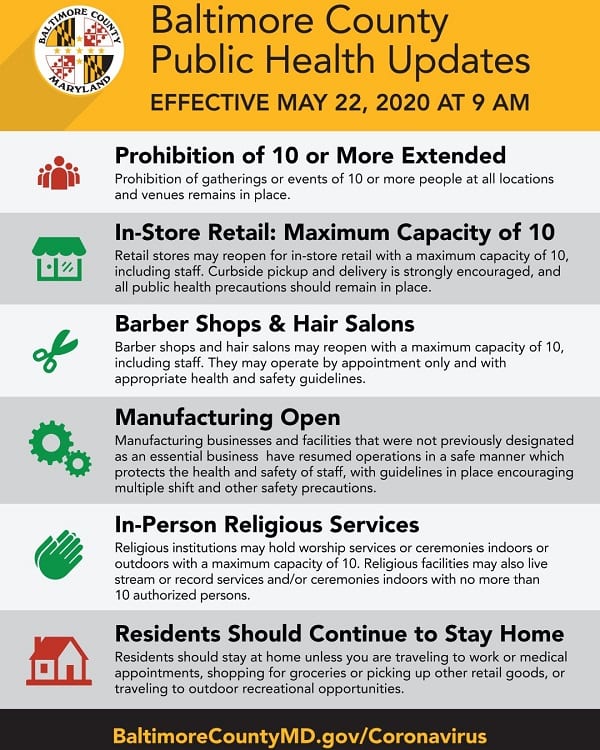 Facebook Comments