UPDATE: For the latest local zip code reports, click here.
Original story below…
——
NOTTINGHAM, MD—The Maryland Department of Health on Thursday reported that there have now been close to 36,000 COVID-19 cases in Maryland.
As of Thursday morning, there have been 35,903 cases of novel coronavirus in Maryland.
There have been 1,748 related deaths, 6,553 total hospitalizations, and 1,538 patients are currently hospitalized. There have been 142,551 negative test results and 2,569 individuals have been released from isolation. Of Maryland's 1,748 deaths, 984 have been in congregate facility settings (nursing homes).
Baltimore County has confirmed 4,290 COVID-19 cases and and 207 deaths while Harford County has confirmed 663 cases and 28 deaths (editor's note: for the sake of accuracy, NottinghamMD.com is not including deaths categorized as "probable" in these totals).
Case breakdown by zip code in NottinghamMD.com's coverage area of northeastern Baltimore County and southern Harford County:
21040 (Edgewood) – 92 cases
21047 (Fallston) – 19 cases
21057 (Glen Arm) – 0 cases
21085 (Joppa) – 48 cases
21087 (Kingsville) – 11 cases
21128 (Perry Hall) – 29 cases
21156 (Upper Falls) – 0 cases
21162 (White Marsh) – 0 cases
21206 (Overlea) – 289 cases
21220 (Middle River) – 226 cases
21221 (Essex) – 166 cases
21234 (Parkville/Carney) – 327 cases
21236 (Nottingham) – 105 cases
21237 (Rosedale) – 214 cases
On Wednesday evening, Governor Larry Hogan announced that Maryland could begin Phase 1 of the Maryland Strong: Roadmap to Recovery.  The stay-at-home order will expire at 5 p.m. on Friday and will be replaced by a safer-at-home advisory.
Beginning at 5 p.m. on Friday, May 15, retail stores in Maryland may reopen with up to 50% capacity; manufacturing may resume operations; personal services (barber shops and hair salons) may reopen at up to 50% capacity and by appointment only.
Pet groomers, animal adoption shelters, car washes, and art galleries will also be able to begin reopening.
Story continues below
On Wednesday night, Baltimore County Executive Johnny Olszewski expressed concern over the governor's decision and said that county officials would issue guidance on how to proceed "within 24 hours."
Additional charts and data below…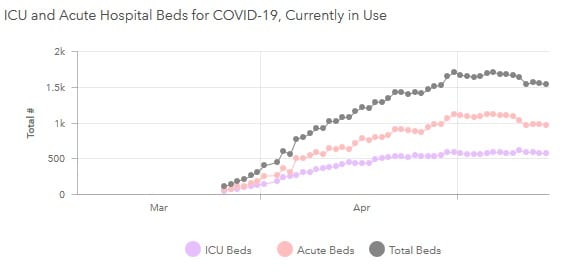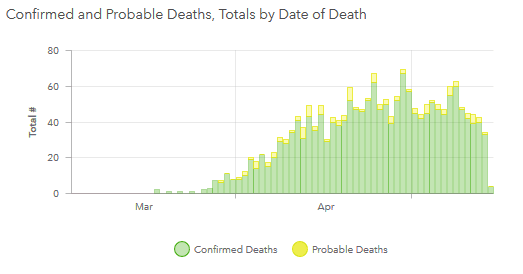 [Charts via MDH]
Facebook Comments