UPDATE: For the latest local zip code reports, click here.
Original story below…
——
NOTTINGHAM, MD—The Maryland Department of Health reported on Friday that there have now been over 30,000 cases of the novel coronavirus in Maryland.  Additionally, the data now shows that the hospital resource utilization curve has remained flat for more than one week (see chart below from MDH).
As of Friday morning, there have been 30,485 COVID-19 cases in Maryland, an increase of 1,111 cases since Thursday.
There have been 1,453 related deaths, 5,811 total hospitalizations (1,674 currently hospitalized), 121,702 negative test results, and 2,041 individuals have been released from isolation.
Baltimore County has confirmed 3,763 COVID-19 cases and and 162 deaths while Harford County has confirmed 572 cases and 20 deaths (editor's note: "probable" deaths are not included in these totals).
Case breakdown by zip code in NottinghamMD.com's coverage area of northeastern Baltimore County and southern Harford County:
21040 (Edgewood) – 77 cases
21047 (Fallston) – 15 cases
21057 (Glen Arm) – 0 cases
21085 (Joppa) – 40 cases
21087 (Kingsville) – 11 cases
21128 (Perry Hall) – 26 cases
21156 (Upper Falls) – 0 cases
21162 (White Marsh) – 0 cases
21206 (Overlea) – 249 cases
21220 (Middle River) – 176 cases
21221 (Essex) – 137 cases
21234 (Parkville/Carney) – 282 cases
21236 (Nottingham) – 93 cases
21237 (Rosedale) – 164 cases
On Wednesday afternoon, Governor Larry Hogan announced that some elective medical procedures and low-risk outdoor activities could resume immediately.  The governor has indicated that Phase 1 of the Maryland Strong: Roadmap to Recovery may begin soon if the curve remains flat as shown below.
In the meantime, state schools will remain closed through the end of the school year, according to MSDE Superintendent Dr. Karen Salmon.  Baltimore County Public Schools have already announced that the Class of 2020 will graduate online.
The Maryland National Guard will conduct a flyover salute to first-responders and essential healthcare workers in the state on Friday afternoon.  A map of the flyover route is available here.
Additional charts and data below…
Advertisement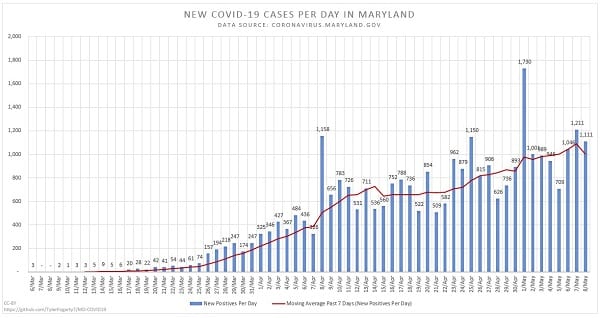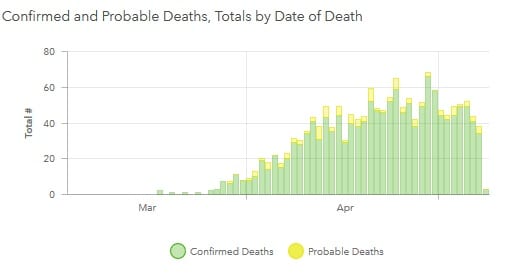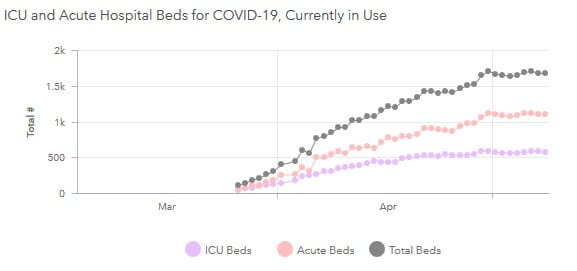 Facebook Comments