UPDATE: Keep up with the latest zip code reports here.
Original story below…
——
NOTTINGHAM, MD—The Maryland Department of Health reported on Tuesday that there have now been over 27,000 cases of the novel coronavirus in Maryland, an increase of 709 cases since Monday.  This marks the fourth consecutive day in which a declining number of new cases was recorded.
New cases reported…
Saturday: 1,001 new cases
Sunday: 989 new cases
Monday: 946 new cases
Tuesday: 709 new cases
As of Tuesday morning, there have been 27,117 COVID-19 cases in Maryland.
There have been 1,290 related deaths, 5,377 total hospitalizations (1,693 currently hospitalized), 112,986 negative test results, and 1,810 individuals have been released from isolation.
Baltimore County has confirmed 3,430 COVID-19 cases and and 142 deaths while Harford County has confirmed 499 cases and 15 deaths (editor's note: for the sake of accuracy, NottinghamMD.com is not including deaths categorized as "probable").
Case breakdown by zip code in northeastern Baltimore County and southern Harford County:
21040 (Edgewood) – 65 cases
21047 (Fallston) – 13 cases
21057 (Glen Arm) – 0 cases
21085 (Joppa) – 30 cases
21087 (Kingsville) – 11 cases
21128 (Perry Hall) – 24 cases
21156 (Upper Falls) – 0 cases
21162 (White Marsh) – 0 cases
21206 (Overlea) – 223 cases
21220 (Middle River) – 156 cases
21221 (Essex) – 110 cases
21234 (Parkville/Carney) – 264 cases
21236 (Nottingham) – 81 cases
21237 (Rosedale) – 144 cases
"With the tests we recently acquired from South Korea, Maryland continues to implement an expanded COVID-19 testing strategy," Governor Larry Hogan said on Monday. "(On Tuesday), a new drive-thru testing site will open at the VEIP station in Hagerstown."
On Sunday, the governor continued his recent media tour by appearing on Fox News to discuss Maryland's recovery efforts (video below).
Last month, Governor Hogan introduced the Maryland Strong: Roadmap to Recovery, the state's proposed guide for reopening.  The governor has not yet given any indication as to when the state will begin to reopen.
On Monday night, Ocean City Mayor Rick Meehan announced that he intends to ease lockdown restrictions on Friday, May 9, allowing the opening of the beach, Boardwalk, and Inlet Parking Lot.
Additional charts and data below.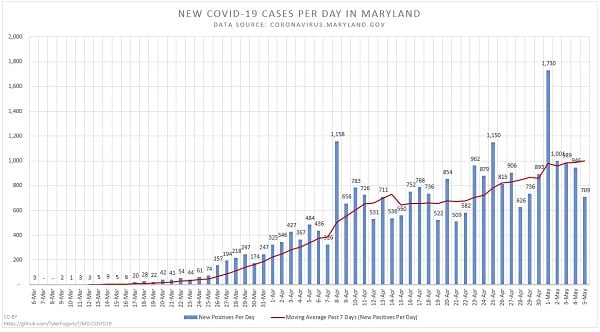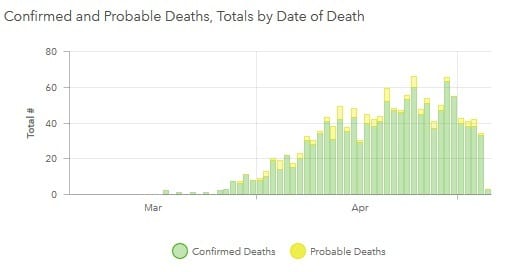 I'm a lifelong small businessman, and nothing matters to me more than getting our economy back on track. As I said tonight on @FoxNews, we need to see Maryland's #COVID19 numbers plateau and decline so we can begin our recovery in a safe, gradual way. pic.twitter.com/k9UzvcXGbe

— Governor Larry Hogan (@GovLarryHogan) May 3, 2020
Facebook Comments