UPDATE: For the latest zip code report, click here.
Original story below…
——
NOTTINGHAM, MD—The Maryland Department of Health reported on Friday that there have been over 3,000 COVID-19 cases in Baltimore County.  In better news, over 1,500 patients have been released from isolation and there have been over 97,000 negative test results.
As of Friday morning, there have been 23,472 COVID-19 cases in Maryland.
There have been 1,098 related deaths, 4,718 total hospitalizations (1,668 currently hospitalized), 97,511 negative test results, and 1,517 individuals have been released from isolation.
Baltimore County has confirmed 3,013 COVID-19 cases and and 116 deaths while Harford County has confirmed 437 cases and 9 deaths (editor's note: for the sake of accuracy, NottinghamMD.com is not including deaths categorized as "probable").
Case breakdown by zip code in northeastern Baltimore County and southern Harford County:
21040 (Edgewood) – 64 cases
21047 (Fallston) – 12 cases
21057 (Glen Arm) – 0 cases
21085 (Joppa) – 27 cases
21087 (Kingsville) – 9 cases
21128 (Perry Hall) – 24 cases
21156 (Upper Falls) – 0 cases
21162 (White Marsh) – 0 cases
21206 (Overlea) – 206 cases
21220 (Middle River) – 101 cases
21221 (Essex) – 93 cases
21234 (Parkville/Carney) – 243 cases
21236 (Nottingham) – 73 cases
21237 (Rosedale) – 130 cases
Last week, Governor Hogan introduced the Maryland Strong: Roadmap to Recovery, the state's proposed guide for reopening.  The governor has not, however, given any indication as to when the state will reopen.  At a Wednesday press conference, Governor Hogan announced that Saturday, May 2 would be designated Healthcare Heroes Day in Maryland. This will coincide with a flyover of the Navy's Blue Angels and the Air Force's Thunderbirds, and buildings across the state, including the State House Dome, Camden Yards, and M&T Bank Stadium, will be lit up blue.
On Tuesday, Governor Hogan announced that $1.6 million in grants would be awarded to companies who have transitioned to Personal Protective Equipment (PPE) in response to the COVID-19 pandemic.  Baltimore County Executive Johnny Olszewski also announced on Tuesday that the county would award additional grants to small businesses and to artists & musicians who have been affected by the crisis.
Advertisement
Thus far, 38 states have reopened or announced that they will be reopening soon.
Additional charts & data are below.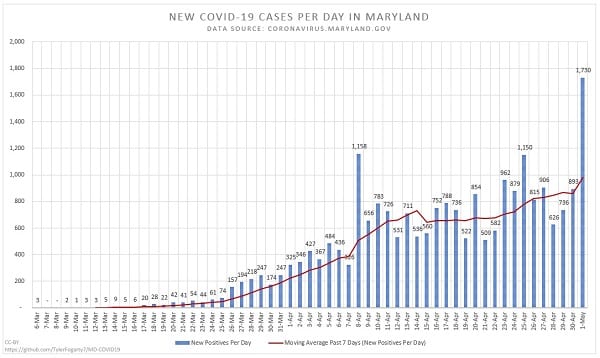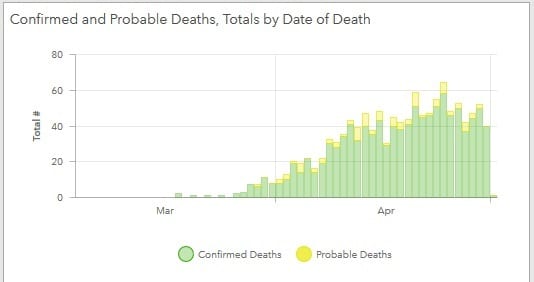 Facebook Comments