UPDATE: For the latest zip code report, click here.
Original story below…
——
NOTTINGHAM, MD—The Maryland Department of Health reported on Tuesday that there have been over 20,000 confirmed cases of novel coronavirus in the state. In addition, however, close to 1,300 patients have been released from isolation and there have been over 87,000 negative test results.
As of Tuesday morning, there have been 20,113 COVID-19 cases in Maryland.
There have been 929 related deaths, 4,268 total hospitalizations (1,528 currently hospitalized), 87,672 negative test results, and 1,295 individuals have been released from isolation.
Baltimore County has confirmed 2,631 COVID-19 cases and and 94 deaths while Harford County has confirmed 358 cases and 6 deaths (editor's note: for the sake of accuracy, NottinghamMD.com is not including deaths categorized as "probable").
Case breakdown by zip code in northeastern Baltimore County and southern Harford County:
21040 (Edgewood) – 55 cases
21047 (Fallston) – 11 cases
21057 (Glen Arm) – 0 cases
21085 (Joppa) – 23 cases
21087 (Kingsville) – 8 cases
21128 (Perry Hall) – 24 cases
21156 (Upper Falls) – 0 cases
21162 (White Marsh) – 0 cases
21206 (Overlea) – 183 cases
21220 (Middle River) – 75 cases
21221 (Essex) – 72 cases
21234 (Parkville/Carney) – 225 cases
21236 (Nottingham) – 69 cases
21237 (Rosedale) – 108 cases
On Friday, April 24, the Centers for Disease Control and Prevention reported that, nationally, visits to outpatient providers and emergency departments for illnesses with symptoms consistent with COVID-19 continued to decline and are below baseline in many areas of the country.
The logic behind widespread U.S. lockdowns has come under fire in recent days, as Tokyo reported its lowest daily level of new coronavirus cases in more than three weeks, a fresh sign that Japan may be succeeding in suppressing the outbreak without compulsory social distancing.
Last week, Governor Larry Hogan introduced the Maryland Strong: Roadmap to Recovery, the state's proposed guide for reopening.  On Monday, Governor Hogan instructed the Maryland Department of Health to begin releasing COVID-19 nursing home data throughout the state.  That data should start being released over the next few days.  The governor has not yet given any indication as to when the state will reopen.
Georgia, Oklahoma, Alaska, and South Carolina have already allowed some businesses to reopen, according to the BBC. Colorado will allow curbside retail pickup to begin on Monday, with hair salons, barbershop and tattoo parlors allowed to reopen on Friday. Tennessee will allow restaurants to reopen on Monday, the same day that Mississippi's mandatory lockdown order expires. Montana's governor has allowed churches to reopen starting on Sunday, with social distancing measures still required. Restaurants and schools will be allowed to reopen on May 7th.
Advertisement
Eight other states led by Republican governors – Arkansas, Iowa, Nebraska, North Dakota, Oklahoma, South Dakota, Utah and Wyoming – never issued mandatory orders to stay at home.
For the latest zip code reports, click here.
More data and charts below.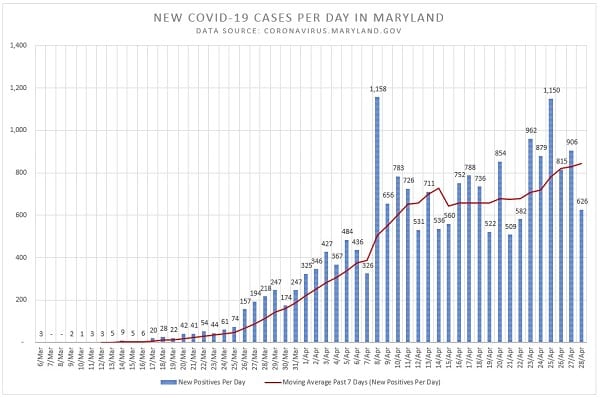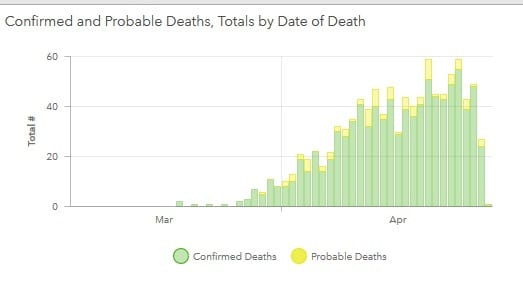 [Featured Photo by Edward Jenner from Pexels]
Facebook Comments