UPDATE: Click here for the latest, complete zip code reports.
Original story below…
——
NOTTINGHAM, MD—The Maryland Department of Health reported on Friday that the state of Maryland has confirmed over 16,000 total cases of novel coronavirus. In addition, over 1,100 patients have been released from isolation during pandemic.
As of Friday morning, there were 16,616 COVID-19 cases in Maryland.
There have been 723 related deaths, 3,618 hospitalizations, 68,100 negative test results, and 1,108 individuals had been released from isolation.
Baltimore County has confirmed 2,234 COVID-19 cases and and 65 deaths while Harford County has confirmed 289 cases and 3 deaths (editor's note: for the sake of accuracy, NottinghamMD.com is not including deaths categorized as "probable").
Case breakdown by zip code in northeastern Baltimore County and southern Harford County…
21040 (Edgewood) – 49 cases
21047 (Fallston) – 9 cases
21057 (Glen Arm) – 0 cases
21085 (Joppa) – 18 cases
21087 (Kingsville) – 8 cases
21128 (Perry Hall) – 22 cases
21156 (Upper Falls) – 0 cases
21162 (White Marsh) – 0 cases
21206 (Overlea) – 152 cases
21220 (Middle River) – 65 cases
21221 (Essex) – 63 cases
21234 (Parkville/Carney) – 195 cases
21236 (Nottingham) – 66 cases
21237 (Rosedale) – 89 cases
The U.S. has already passed the projected peak hospital resource use date (4/17) and the date of the projected peak in deaths per day (4/15), according to HealthData.org.
Additionally, new data indicates that the fatality rate from COVID-19 may be much lower than originally thought, according to the Wall Street Journal.
At 3 p.m. on Friday, Governor Larry Hogan plans to introduce the Maryland Strong Roadmap to Recovery, his plan to reopen the state of Maryland (UPDATE: Read the full plan here). The plan was developed in consultation with doctors and public health experts and it will be a safe, effective, and gradual plan to allow the state to reopen, to rebuild, and to recover as soon as it is safe to do so, according to Governor Hogan.
The governor has stated that his recovery plan has 4 components that he says must be solidly in place before lifting any restrictions:
Expanded testing
Increased hospital surge capacity
Increased supply of PPE
Robust contact tracing operation
Additional data and charts are below…
Advertisement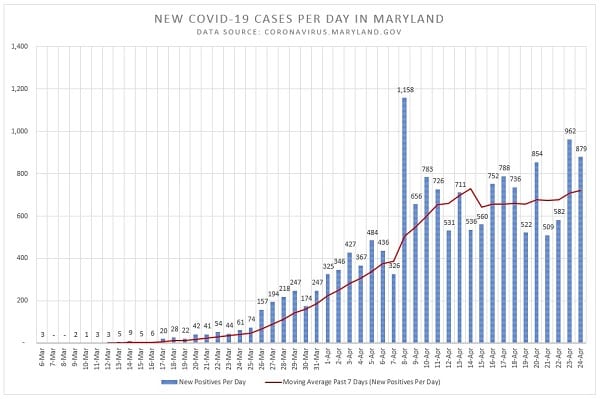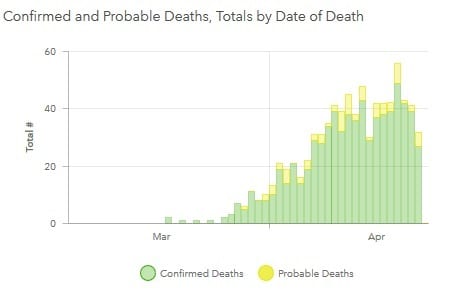 Facebook Comments