NOTTINGHAM, MD—Among the many other economic impacts of the novel coronavirus pandemic, it was revealed last week that construction funding for the proposed new northeast Baltimore County school projects was now uncertain due to budget constraints.
Last Tuesday night, the Baltimore County School Board approved a contract modification that authorizes the school system to purchase new technology for projects including the new northeast elementary school at Ridge Road and the new northeast middle school.
That approval was bittersweet, according to BCPS Board of Education member Julie Henn.
"While it is encouraging to see plans for these projects advance, construction cannot move forward without state funding," Henn said last week.
On Monday, Henn and Councilman David Marks wrote a letter to Governor Larry Hogan asking him to support the Built to Learn Act of 2020.
This legislation provides funding that would allow several critical school construction projects in the northeast to move forward, including the new Northeast Elementary School at Ridge Road, the new Northeast Middle School, and a renovation / expansion of Pine Grove Middle.
"Baltimore County's 115,000 students are relying on critical school construction projects to provide healthy environments conducive to learning," the letter states. "We are writing to ask for your continued assistance."
Advertisement
The full letter can be viewed below.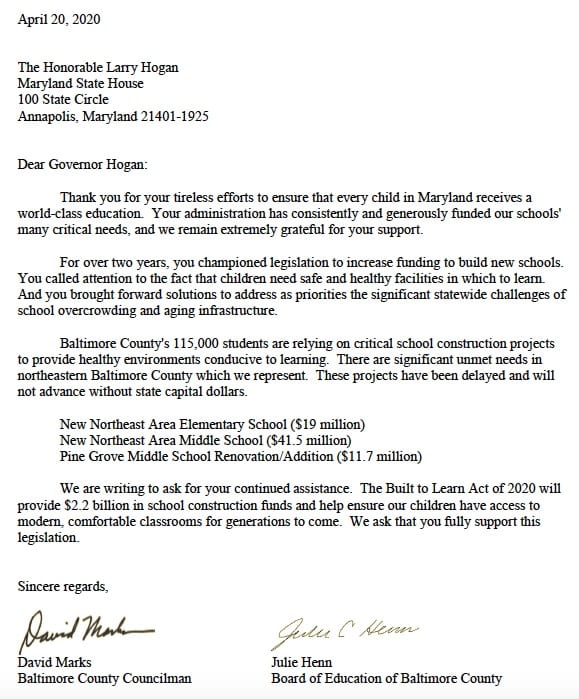 Facebook Comments