UPDATE: The updated zip code report for Wednesday, April 15, 2020 can be viewed here.
Original story below…
——
NOTTINGHAM, MD—The Maryland Department of Health reported on Tuesday that the number of confirmed cases of COVID-19 in the state had surpassed the 9,000 mark.
As of Tuesday morning, there were 9,472 confirmed cases of the novel coronavirus in Maryland and 302 deaths so far. There have been 44,261 negative test results, 2,122 hospitalizations, and 607 patients have been released from hospitalization.
This marks an increase of 536 cases since Monday. Maryland experienced its lowest percentage increase in cumulative cases over the past 24 hours with just a 6 percent increase in confirmed cases.
Baltimore County has confirmed 1,377 COVID-19 cases and 41 deaths.  Harford County has confirmed 147 cases and no deaths.
The following zip code breakdown is available for northeastern Baltimore County and southern Harford County…
21040 (Edgewood) – 32 cases
21085 (Joppa) – 13 cases
21128 (Perry Hall) – 16 cases
21220 (Middle River) – 46 cases
21221 (Essex) – 41 cases
21234 (Parkville/Carney) – 121 cases
21236 (Nottingham) – 47 cases
21237 (Rosedale) – 48 cases
Areas such as Fallston, Glen Arm, Kingsville, and White Marsh have no confirmed cases, according to MDH.
According to HealthData.org, U.S. hospital resource use peaked on April 10, 2020 and is now on the decline. The projected peak in U.S. deaths per day occurred 24 hours ago, on Monday, April 13, 2020.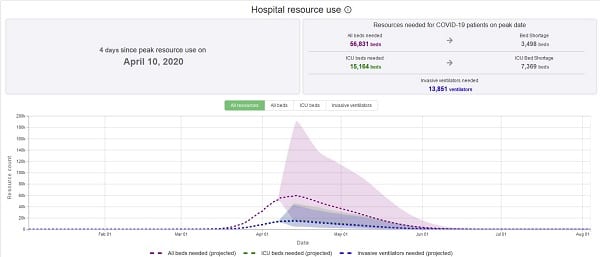 Enlarged graphics available here
Facebook Comments