UPDATE: The Severe Thunderstorm Warning has been extended until 2 p.m.
Original story below…
——
NOTTINGHAM, MD—The National Weather Service has issued a Severe Thunderstorm Warning for the Nottingham area.
The warning will remain in effect until 1:30 p.m. on Thursday and covers northeastern Baltimore City in northern Maryland, Harford County in northern Maryland, and northern Baltimore County in northern Maryland.
At just before 12:30 p.m., severe thunderstorms were located along a line extending from near Railroad to near Mount Airy, moving east at 65 mph.
The main hazard with this line of storms is 60 mph wind gusts.
Damaging winds will cause some trees and large branches to fall. This could injure those outdoors, as well as damage homes and vehicles. Roadways may become blocked by downed trees. Localized power outages are possible. Unsecured light objects may become projectiles.
Locations impacted include Baltimore, Pikesville, Middle River, Cockeysville, Aberdeen, Havre De Grace, Aberdeen Proving Ground, Towson, Bel Air South, Parkville, Owings Mills, Bel Air North, Carney, Perry Hall, Reisterstown, Rossville, Mays Chapel, Timonium, White Marsh, and Fallston.
Wind damage with these storms will occur before any rain or lightning. Do not wait for the sound of thunder before taking cover. Seek shelter immediately inside a sturdy structure and stay away from windows.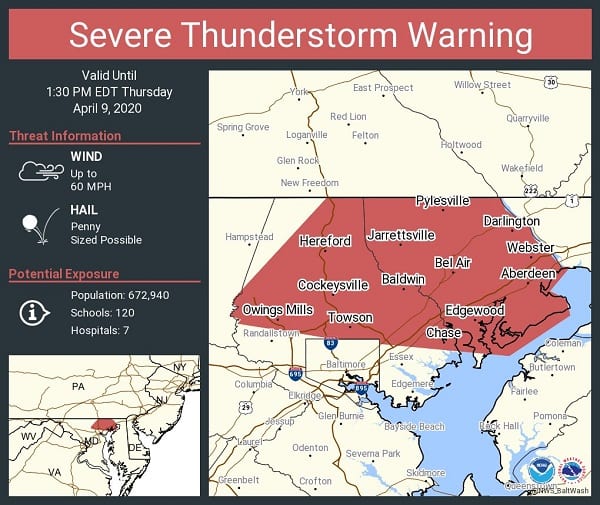 Facebook Comments