BALTIMORE, MD—The coronavirus pandemic is taking a toll on the state's workforce.
The Maryland Department of Labor reported on Thursday that, in just one week, their office had received over 42,000 new unemployment insurance claims.
"This is truly unprecedented," the department said on Twitter. "As many customers face longer wait times than usual and have difficulty accessing our website, we ask for your patience and understanding. As we continue making changes to accommodate this surge, we encourage all eligible Marylanders to file their claim online at http://mdunemployment.com. The online application is available 24/7 and claimants should file early in the morning or late in the evening for faster speeds."
Earlier this week, Governor Larry Hogan enacted an emergency order to close all non-essential businesses across the state of Maryland.
Governor Hogan and the Maryland Department of Labor have also launched a COVID-19 Layoff Aversion Fund, which is designed to support businesses undergoing economic stresses due to the pandemic by preventing or minimizing the duration of unemployment resulting from layoffs.
The award (up to $50,000 per applicant), will be a quick ,deployable benefit and customizable to the specific needs of area businesses to minimize the need for layoffs.
Learn more about the fund here.
See a breakdown of unemployment claims by county below…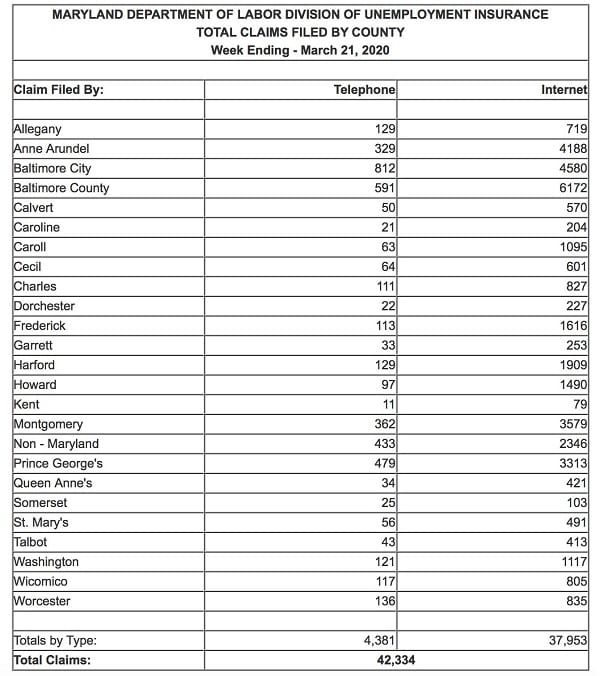 Facebook Comments