UPDATE: The forecast models have shifted eastward and a Winter Weather Advisory has been issued for the Nottingham area for Tuesday.
Original story below…
——
NOTTINGHAM, MD—Winter weather will return to the Baltimore area this week.
The National Weather Service says that a fast-moving system will bring some snow to the region on Tuesday.
Road temperatures are still above freezing given the recent warm weather so total accumulations of less than one inch are expected in the Nottingham area.
More accumulations are expected on grassy and elevated areas than on roadways.
Still, slippery road conditions are possible and brief periods of heavy precipitation are possible.
Motorists should exercise caution on Tuesday.
The National Weather Service forecast map can be found below…
MDOT SHA is monitoring an approaching weather system that could bring rain and snow to most of the state tomorrow. It is forecast to begin in Western MD by morning, then expand statewide. Please stayed tuned to forecasts and be prepared for traffic impacts. sf #mdwx #mdotsafety

— MD State Highway Adm (@MDSHA) January 6, 2020

Advertisement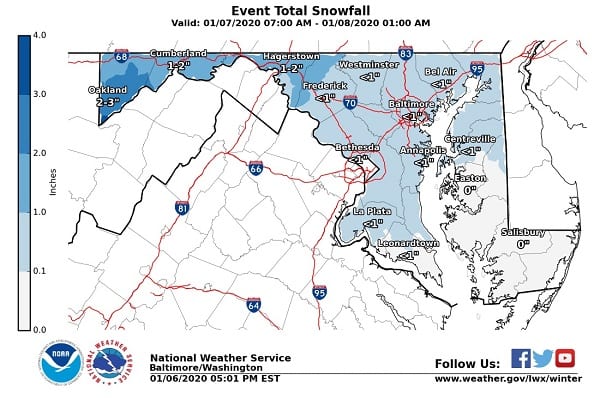 Facebook Comments