NOTTINGHAM, MD— Maryland is once again in the top 10 nationally for energy efficiency standards.
In the latest reported issued by the American Council for an Energy-Efficient Economy (ACEEE), Maryland moved up to no. 7 and received the "most improved" distinction award.  The state has has been in the top 10 for the past 9 years of the ACEEE scorecard, which began in 2006.
From the October ACEEE report:
Maryland improved the most since the 2018 Scorecard, moving up three spots to seventh place and gaining 4.5 (out of a possible total 50) points. The state made significant gains by focusing on utility efficiency programs, stronger building energy codes, public transit funding, and electric vehicle adoption.
"Our administration is proud that Maryland continues to be a national leader for energy efficiency," said Governor Larry Hogan. "Our initiative to reduce energy consumption in state-owned buildings by 10 percent is just one of the many ways Maryland is leveraging energy efficiency measures to cut carbon emissions, save money, and improve the environment."
"State leadership on energy efficiency is more important than ever for ushering in the low-carbon future we need," said ACEEE executive director Steve Nadel. "If states embrace robust energy-saving measures nationwide, Americans can slash greenhouse gas emissions by 50% and deliver more than $700 billion in energy savings by 2050. We commend the top states for their clean energy leadership and urge states that are lagging to implement the strategies laid out in this report so they can deliver energy and cost savings for their residents."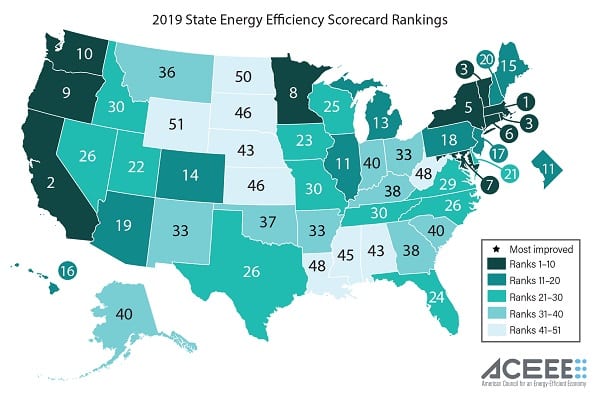 Facebook Comments