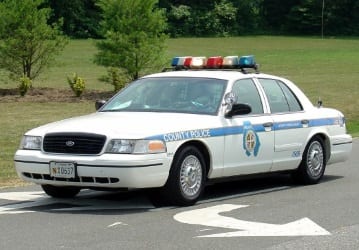 OVERLEA, MD – Police in Baltimore County say there has been an uptick in shed burglaries over the past month. The burglaries have occurred mostly in the afternoon and overnight hours, particularly in the Overlea area.
Baltimore County police advise residents and business owners to make sure sheds have sturdy doors and windows, and to use locks, even when residents are home. Doors and windows are often forgotten about when residents are home and make for easy targets for burglars.
Burglars know which locks work and which ones don't. One burglar told officers that hidden shackle locks are very effective at keeping out unwanted criminals. Shackle locks are often used on tractor-trailer doors but they can be used on sheds and other structures easily accessed from outside.
They work well because there is no easy or practical way to cut off the lock with a bolt cutter. Prying them out of a door is time consuming and loud. Time is the enemy of a burglar.
Another effective lock is the disc brake lock, according to police. You often see them attached to ATVs and dirt bikes to thwart theft.
The lock attaches to a wheel on the bike or All-Terrain Vehicle (ATV). For those who want added security, there are disc brake locks that have a built-in motion detector alarm. These locks can be purchased online, at motorcycle shops, and at some home improvement stores. Some stores will even special order these locks.
The locks are inexpensive yet highly effective. The shackle lock starts at $10 and the disc brake lock starts at $15.
Lights are another effective tool
Lights are kryptonite to burglars. The same burglar who talked about locks also told officers that lighting deters theft. They like to work in the dark.
Got a Bike, Lawn Mower and Other Equipment?
Engrave it, Lock it, or Lose It
Burglars like to steal things they can sell. In the spring, the hot items are lawn equipment, bikes, and ATVs.
Here are some suggestions to help keep your property safe:
Keep a journal listing the make, model, and serial numbers of your bicycle, mower, and other outside equipment. Also take pictures of your property. It will help you when working with police and with your insurance company.
Engrave your valuables. This is a simple and fast way to mark what is yours when you have to claim your property. Officers suggest using your license number or Maryland ID card. Never use a social security number as an ID marker.
When storing a bike or ATV in your garage or shed, use one of the locks mentioned earlier. If that doesn't work, attach them to an inside pole or heavy equipment stored inside. This will make the thief think twice before stealing your property.
Facebook Comments