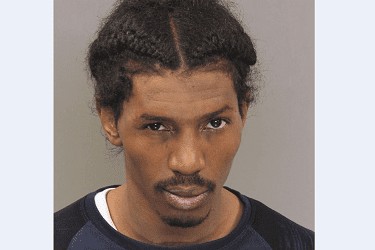 Police discovered a burglar hiding in the attic of a home in Essex on Thursday after a lengthy barricade situation.
Officers were initially dispatched to a home in the 900-block of Renfrew Street (21221) for a burglary in progress at just before 1 p.m. when the homeowner called 911 upon seeing the burglar inside on surveillance cameras.
The homeowner received a "person detected" mobile alert from his interior surveillance cameras, then watched a live feed of the suspect walking around inside his home.
Officers surrounded the home and approached the suspect as he attempted to escape through a window, but he then retreated back inside. Police summoned additional resources to the scene and attempted to communicate with the suspect without success.
At just after 10 p.m., tactical officers entered the home, located the suspect hiding in the attic, and made the arrest.
The burglar has been identified as Devante James Riley, 26, of the 1700-block of McKean Avenue (21217). He has been charged with first- and fourth-degree burglary, and he was served with an arrest warrant on multiple other burglary charges connected to another Baltimore County case.
Riley is being held on "no bail" status at the Baltimore County Detention Center.
Facebook Comments