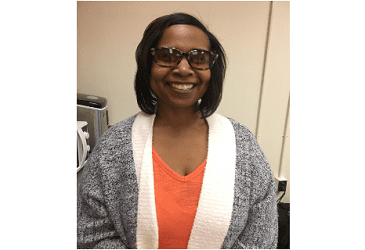 Towson, MD – Loyola University Maryland's School of Education has named Monica Sample, principal of Overlea High School, as one of its two 2019 Literacy Leaders.
The Literacy Leader Award recognizes graduates of Loyola's literacy master's program specializing in either reading or literacy who promote literacy, demonstrate innovation in practices, exhibit principal leadership within the school or community, and model lifelong learning as a member of the professional literacy community.
In announcing the award, the School of Education described Sample as "passionate about education." They wrote that she "uses literacy to connect with both teachers and students. By identifying the strengths of her faculty to help lead initiatives within the school, Sample established a leadership team, which provides the opportunity for teachers to present and learn from one another. Sample is also the administrator in the Loyola/Overlea Professional Development School partnership, where she helped Overlea win a grant from the Learning Forward Foundation for Equity in Student Learning."
"Baltimore County Public Schools is so proud that Principal Monica Sample's achievements in literacy leadership are being recognized," said Verletta White, interim superintendent. "Our school system emphasizes literacy in all subject areas, and it is principals like Monica who ensure that we succeed in this priority area."
Sample will receive her award during a ceremony on March 26, at 6 p.m. in the Loyola/Notre Dame Library Auditorium.
Maneka Deanna Brooks, Ph.D., assistant professor of reading education at Texas State University, will give this year's keynote address, "'Little Things Are Big': Choice, Voice, and Equity in Everyday Decisions."
The event is free and open to the public; however, registration is required.
Facebook Comments