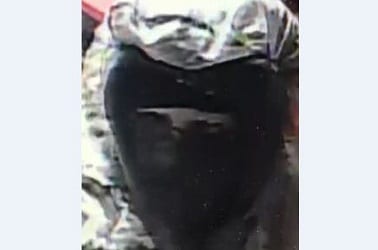 Baltimore County police detectives are asking for help identifying a burglary suspect in connection with at least two commercial burglaries, one in Baltimore County and one in Harford County.
The suspect struck Carroll Motor Fuels gas station and convenience store at Harford Road and Sunshine Avenue in Kingsville at just before 2:30 a.m. on Wednesday morning, January 23rd. The suspect, whose face was concealed, entered the store by shattering a window, stole cartons of cigarettes, and fled the location on foot. The suspect was caught on store surveillance video (below) behind the store counter stealing the cigarettes.
The same suspect is believed to have committed a similar burglary in Harford County last year, on March 4, 2018, at around 1 a.m. In that burglary, the suspect shattered a window and entered the Royal Farms store located in the 3000 block of Jarrettsville Pike in Monkton, again stealing a number of cartons of cigarettes and fleeing on foot.
Anyone who may have additional information on these burglaries or can help identify this suspect is asked to contact police at 410-307-2020, or contact the Harford County Sheriff's Office, Detective Aksomitus, at 410-836-5427 or Harford Crime Solvers at 1-888-540-8477. Callers may remain anonymous.
See the burglar in action below.
Facebook Comments