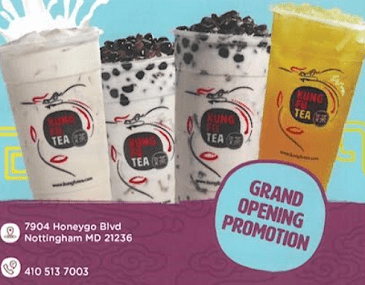 There's a new bubble tea shop in town.
Kung Fu Tea opened its doors last month at White Marsh Plaza, and patrons can now enjoy grand opening specials.
From January 11 to January 13, shoppers can get buy-one-get-one specials on Kung Fu milk tea, passion fruit green tea, red wow, and Oreo wow.
From the company's official website:
Kung Fu, in its purest essence, is the desire for self-improvement and to expand one's capabilities beyond all limitations.

Here at Kung Fu Tea, we share that same desire. We hold the firm belief that it is our mission to continuously improve and expand upon our already stellar brand.

With over a decade of experience, we are the unchallenged experts in the bubble tea business. From the ingredients for our products to the customer service at our stores, we keep a strict and uncompromisingly high standard, setting the bar for our competitors.

Advertisement




Kung Fu Tea is located at 7904 Honeygo Boulevard at White Marsh Plaza, near Lifeway, in Nottingham (21236).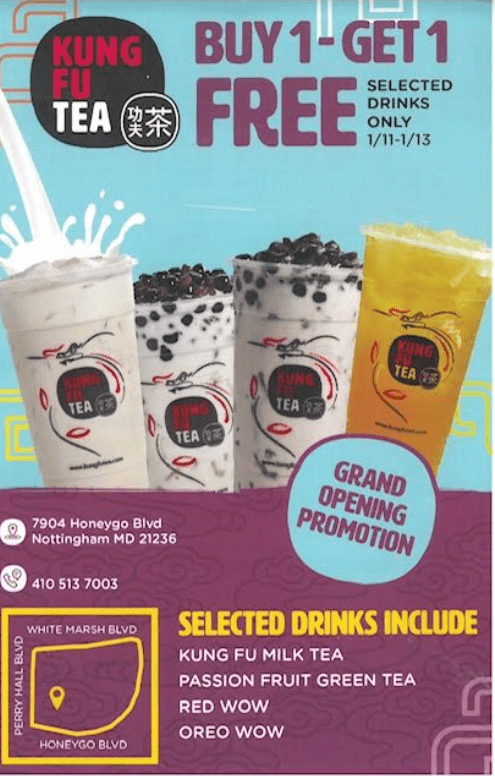 Facebook Comments