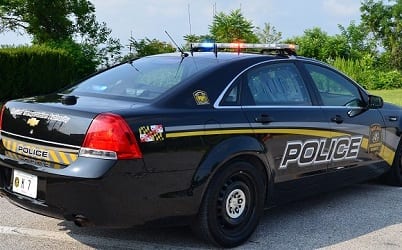 A Rosedale man is in police custody following a stop along I-695.
The man was arrested on Monday, December 17, after Maryland Transportation Authority (MDTA) Police found him in possession of a loaded handgun and drugs.
An officer checked the welfare of a driver who was stopped on the shoulder along I-695 near Exit 33 (Interstate 95) in Rosedale. The driver appeared to be slumped over the steering wheel of his vehicle. After waking the driver, the officer detected the odor of marijuana coming from the passenger compartment of the vehicle.
Zachary Shumaker, a 23-year-old male from Rosedale, was identified as the driver and was asked to exit his vehicle, a 2003 Toyota Tacoma. During a subsequent search of the vehicle, officers located a loaded handgun, ammunition, heroin and marijuana.
The MDTA Police charged Shumaker with transporting a firearm in a motor vehicle, illegal possession of ammunition, illegal possession of a regulated firearm, a disqualified person possessing a regulated firearm, possession of marijuana, and possession of heroin.
After processing, officers took Shumaker to the Baltimore County District Court Commissioner. He is being held without bail pending trial.
Facebook Comments