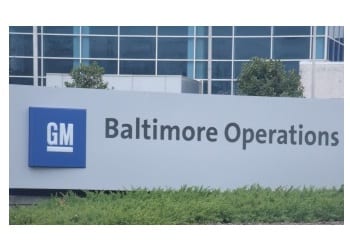 Baltimore County Executive John Olszewski, Jr. reached out to the head of General Motors to emphasize the value of the state-of-the-art White Marsh manufacturing facility, both to GM and to the Baltimore region.
GM had previously announced that it would close down the White Marsh facility.  GM Chairman and CEO Mary Teresa Barra recently defended the company's decision to overhaul its production and facilities in an exclusive interview with FOX Business' Edward Lawrence.  Others have speculated that the decision may have been politically motivated.
In a letter sent on Tuesday, Olszewski called on Barra to find a product or alternate use for the plant that will keep all of its 300 high-performing employees working.
"We know that eastern Baltimore County is one of the most competitive areas for manufacturing on the East Coast with our highly skilled workforce and proximity to transportation networks," Olszewski said. "I wanted to make sure that the leadership at GM understands the importance and value of this facility to their bottom line and to Baltimore County."
The full text of his letter is below:
December 11, 2018
Ms. Mary Teresa Barra
Chairman and CEO
General Motors Company
300 Renaissance Center
Detroit, Michigan 48243
Dear Ms. Barra,
As the newly-elected County Executive of Baltimore County, I was shocked to learn about General Motors' (GM) decision to cease production at GM's White Marsh facility. This facility has been an anchor and source of pride within our County since it opened in 2000. The facility's importance to the region became even more significant upon the opening of the $245 million electric motor facility in 2012. Hundreds of millions of federal, state, and local dollars have been invested since its opening and it has been lauded as a "state of the art" facility that embodied American resiliency in the wake of the great recession.
As you know, our region has strong and deep roots in manufacturing. Our proximity to major highway and rail networks and the Port of Baltimore has made eastern Baltimore County one of the most significant areas for logistics and manufacturing – and we continue to remain competitive. We attract talented and qualified workers and have demonstrated our commitment to embracing 21st century workforce solutions through bolstering trades, job training and workforce development. And we will continue to do so.
Therefore I respectfully request that GM find a product or alternative use for the plant that will keep all 300 of those employees working in Baltimore County. I understand that according to GM's own corporate metrics, the employees at White Marsh are among the top performers across the entire company. Furthermore, I understand these employees have had very few grievances with GM management. The facility is both modern and effective, and I know these hard-working men and women remain committed to achieving high performance standards.
If GM does not reverse the decision to cease production in White Marsh, we must work collectively with our state and federal partners to do everything we can for the employees and families impacted. As such, I have asked my team to immediately engage with local GM and United Auto Workers (UAW) Local 239 in an effort to protect the career-paths of affected GM workers. At my direction, Baltimore County's Department of Workforce and Economic Development will serve as the central agency responsible for communications, coordination with area employers interested in recruiting GM workers, and hosting career fairs. We will also offer workshops and direct career counseling, assist with resume development, interview preparation, and other unemployment essentials.
Earlier this week, a team of economic and workforce development professionals from my administration met with GM's human resource manager, Erin Spitzer, to discuss collaboration on these efforts. I have every confidence that we will continue to have GM's cooperation and partnership in these efforts.
While we are bracing for a possible closure, I would like to reiterate my strong request to maintain operations at the White Marsh facility. As soon as possible, I invite you and/or members of your senior leadership team to join me in a tour of the White Marsh operation to observe the world-class operation there firsthand. I am available to discuss this matter at your convenience. Thank you for your consideration.
Sincerely,
John Olszewski, Jr.
County Executive
cc:
Eric Shelhorn, Plant Manager, GM White Marsh
Erin Spitzer, HR Manager, GM White Marsh
John Blanchard, Director of Local Government Relations, GM
Will Anderson, Director of Economic & Workforce Development, Baltimore County
Mike Gill, Secretary, Maryland Department of Commerce
The Honorable Lawrence J. Hogan, Jr., Governor of Maryland
The Honorable Katherine Klausmeier, Senate of Maryland District 8
The Honorable Eric Bromwell, Maryland House of Delegates District 8
The Honorable Joe Cluster, Maryland House of Delegates District 8
The Honorable Christian Miele, Maryland House of Delegates District 8
The Honorable Cathy Bevins, Baltimore County Council District 6
Harry Bhandari, Delegate-Elect, District 8
Joseph Boteler, Delegate-Elect, District 8
Facebook Comments