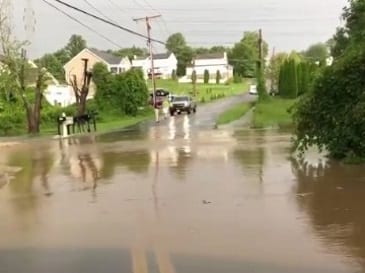 A strong line of storms pummeled Nottingham and the surrounding communities on Monday evening.
As the storms moved closer, the National Weather Service issued Severe Thunderstorm Warnings and Flash Flood Warnings for northeastern portions of Baltimore County.
A portion of Magledt Road near Hines Estate in Carney temporarily had to be shut down due to flash flooding at about 6:30 p.m.
In Kingsville, two people became trapped after trees and wires fell on their truck in the area of Philadelphia Road at Bradshaw Road.  Both individuals were extricated and minor injuries were reported.
In Fallston, Carrs Mill Road remains closed at the Winters Run bridge due to downed wires in the roadway.
Westbound Pulaski Highway also remains shut down near Days Cove Road due to trees in the roadway.
Advertisement
Ebenezer Road is currently blocked between Vincent Road and Vincent Farm Lane due to trees and wires down in the roadway. Power and traffic lights are out in the area, including the light at Route 40 and Ebenezer Road.
Power is also out at the White Marsh Volunteer Fire Company.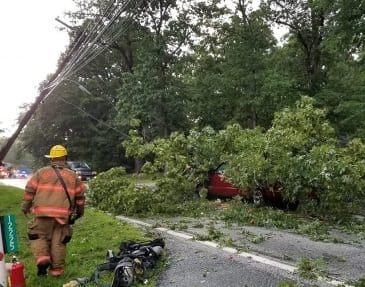 Facebook Comments