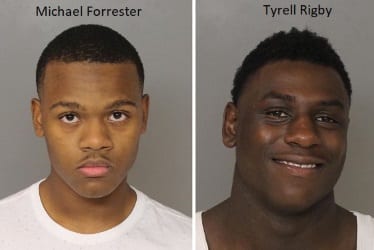 Police have identified the two adult suspects who were arrested during a large disturbance at White Marsh Mall on Saturday night.
Michael Jerard Forrester, 19, of the 100-block of North Freemont Avenue (21201), has been charged with second-degree assault, resisting arrest, disorderly conduct, and trespassing. He was released on a $1,000 bond.
Tyrell Davon Rigby, 19, of the 2600-block of Mura Street (21213), has been charged with disorderly conduct, failing to obey a reasonable & lawful order, obstructing & hindering, and trespassing. He was released on his own recognizance.
Police say Forrester and Rigby were two members of a large group of juveniles and young adults that fled from the food court at White Marsh Mall following a fight in the restrooms. Both mall security officers and an off-duty Baltimore County police officer quickly responded to the food court. The group was told that they were no longer allowed on mall property and ordered to leave.
The group dispersed in various directions across the mall parking lot, but a smaller group, including Forrester and Rigby, attempted to circle back and re-enter the mall, where they were stopped by a mall security officer. When told they were not allowed to re-enter they became argumentative.
The Baltimore County police officer reiterated that if they did not leave, they would be trespassing, but they continued to be argumentative and refused to leave.
Story continues below
The officer then tried to escort Forrester and Rigby off of the property. Forrester swung at the officer, but was blocked.  The officer then attempted to place him under arrest.  A second officer tried to assist, but Forrester resisted and the officers had to use physical force.
While Forrester was being arrested, a large group of youths surrounded the officers and began yelling.  The officers ordered the crowd to disperse.  When the crowd did not listen, the officers used pepper spray.
The began obstructing traffic as they fled on to Ring Road. Some individuals crossed over to The Avenue at White Marsh, where they were also ordered to leave due to the unaccompanied minor curfew policy.
Rigby was also ordered to leave the mall property and refused. When police advised him that he would be arrested for trespassing if he refused to leave, he again refused and placed his own hands behind his back. He was arrested without further incident.
In all, more than 36 police officers responded to the scene. It took over an hour to restore order to the area, resulting in the arrests of Forrester and Rigby along with seven other juveniles.
Facebook Comments