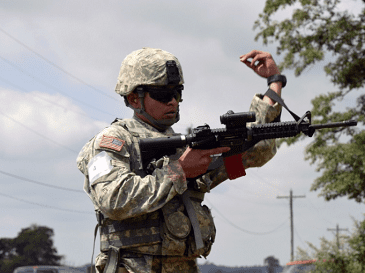 Spc. Gerald L. Villamar, 629th Expeditionary Military Intelligence Battalion, took third place in this year's U.S. Army National Guard Best Warrior Competition July 22 – 27.
The Nottingham resident arrived before sunrise to the busiest Army Guard training center in the nation with confidence and ambition, seeking to take the title of Best Warrior.
To get here, Villamar was previously named Best Warrior in both the state and regional competitions.
This time, enduring 16 fierce events, he completed formal board interviews, physical fitness challenges, written exams, and warrior tasks and battle drills – testing the entirety of a trained and ready soldier.
"The most challenging event was the 12-mile ruck march," Villamar said. "I had practiced on trails, but not the road, which made it more difficult."
The timed 12-mile ruck march involved carrying a 35-pound pack through the historic Gettysburg Battlefield, which was a major culminating event during the competition.
"The most significant accomplishment was competing and being able to finish the competition while facing all challenges that [were] brought upon us," said Villamar. "The amount of rain that accumulated during the competition made it much more difficult, but we made it through without injury."
Soldiers from Arkansas, Georgia, Illinois, Kentucky, Nebraska, New York, Oregon, South Dakota, Utah, Virginia, and Wisconsin also competed.
Story continues below
"It's nice to compete with soldiers around those seven regions," Villamar said. "To hear their stories and learn their backgrounds throughout the competition was humbling for me."
Villamar described his experience with the other competitors as a total win.
"Although I did not take first in this competition, I was able to build camaraderie with everyone involved," he said.
The 33-year old began his venture with the National Guard's Laurel unit just over three years ago.
Villamar plans to apply this experience to his own unit by becoming a mentor to a future soldier who may also take interest in competing in the Best Warrior competition.
Maj. Michael A. Bryant, 629th EMIBn commander, said he couldn't be more proud of Villamar.
"He is a true Citizen-Soldier and has proven to be physically fit, mentally sound, and a true professional," Bryant said. "I am happy to have his talents within the 629th EMIBn."
Facebook Comments