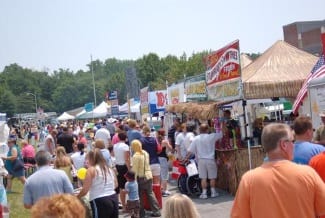 The 2018 Perry Hall Town Fair is almost here.
The Perry Hall/White Marsh Business Association and the PHWMBA Community Foundation present The Town Fair each year to bring businesses and the community together.
The Town Fair will be held on Saturday, June 23 from 10 a.m. to 3 p.m. in front of the Perry Hall High School at 4601 Ebenezer Road, 21236.
There will be plenty of live entertainment, as well as fun activities for kids.
Here are the activities for this year:
Here is the lineup:
10:30 to 11 a.m.: White Marsh Ballet Academy performance
11 a.m. to 2 p.m.: Pony rides ($5)
11 a.m. to 2 p.m.: Laser tag ($5)
11 a.m. to 3 p.m.: Rock X Band
11:15 to 11:45 a.m.: Baltimore Elite Martial Arts demonstration
12 p.m. to 1 p.m.: Visit from Ravens mascot Poe
12 p.m. to 2 p.m.: Bubbles the Clown
12:15 p.m. to 12:45 p.m.: D'Joum-Bale' Performing Arts
1 p.m. to 1:30 p.m.: White Tiger Martial Arts
For more information, visit http://www.thetownfair.net.
Facebook Comments