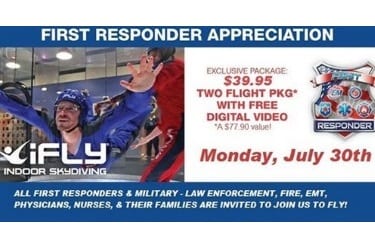 One local business will be holding an event to honor all first responders next month.
On Monday, July 30, iFly on The Avenue at White Marsh will hold a First Responder Appreciation Day.
First responders and their families can enjoy 2 flights, with instruction, and a digital video at the special rate of $39.95.
Story continues below
The event will be held from 5:30 to 8:30 p.m.
iFly is located 8209 Town Center Drive in Nottingham/White Marsh (21236).
Facebook Comments