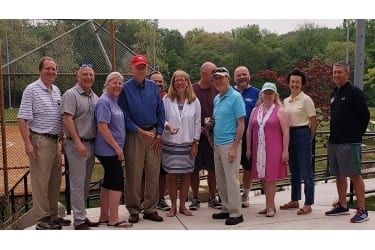 On Saturday, May 12, Councilman David Marks joined the Kingsville Recreation Council in celebrating the completion of Phase 1 of improvements to Kingsville Park.
Councilman Marks secured the funding for the project after meeting with Kingsville leaders such as Bill Paulshock, Joe Salvo, and Joe Mills, president of the council.
"Under the leadership of Joe Mills and his outstanding volunteers, the Kingsville Recreation Council has become one of the most active programs in northeastern Baltimore County," said Councilman Marks. "The park improvements, along with the new fire station and elementary school renovations, add to the terrific quality of life here in Kingsville."
​
The funding improved drainage at the 22-acre site, renovated the upper fields, and increased accessibility by disabled patrons. Phase 2 will involve improvements to the lower fields.
Advertisement
"As a longtime recreation council volunteer, I know these improvements are critical for the growing and active program in Kingsville," said Bill Paulshock, who alerted Marks to the problem in 2014.
"I would like to thank Councilman Marks for constantly communicating with me and with other leaders of the Kingsville Recreation Council. The improvements definitely help with our activities and add to the enjoyment and utility of these fields," added Scott Cantner, softball commissioner and vice president.
Facebook Comments