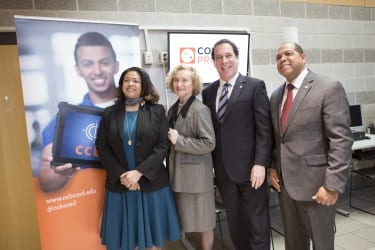 Baltimore County Executive Kevin Kamenetz announced on Monday morning at CCBC Essex that his FY 19 budget proposal would include a request for a Baltimore County College Promise program.
If approved by the County Council, the new scholarship program would begin with the Fall 2018 semester, and would cover tuition and mandatory fees at CCBC to enable eligible Baltimore County residents to complete an associate's degree or workplace and certification program, up to a maximum of three years.
"This is a real game-changer for students from low or moderate income families for whom the benefits of a college education might otherwise be out of reach," Kamenetz said. "It opens up a lifetime of career income opportunities."
The Baltimore County College Promise program guarantees that CCBC college tuition will be free for eligible recent high school graduates who live in Baltimore County. It applies to students pursuing an associate's degree or a licensure or certification program. The scholarship goes beyond federal, state and private scholarships to provide full tuition for qualified students to pursue and complete their education at CCBC.
"The Baltimore County College Promise program is truly something to celebrate," said CCBC President Sandra Kurtinitis. "It will increase access to higher education for hard-working Baltimore County students who otherwise might struggle to meet the financial obligation of going to college. Students who receive a Promise Scholarship must be college ready, doubling the value of this investment. We are fortunate to have a County Executive who believes in the importance of public higher education and not only 'talks the talk,' but 'walks the walk.' The Baltimore County College Promise program is an investment in the future of Baltimore County students and our local economy."
"This is a tremendous opportunity for our recent graduates, especially those with financial constraints, to take full advantage of the tremendous education and career-advancing opportunities at CCBC," said BCPS Interim Superintendent Verletta White.
"I know firsthand how much the people in my district value CCBC Catonsville," said 1st District Councilman Tom Quirk. "To give individuals who might not be able to afford to go to college the opportunity to do so is vital to our future as a county, and frankly, as a nation. This is about family stability and economic growth."
Advertisement
"There is nothing more important to a person than a good job, and access to higher education is vital in opening up opportunities for individuals," said 2nd District Councilwoman Vicki Almond. "This is a very good day for Baltimore County."
"Jobs. Jobs. Jobs. This announcement is about jobs pure and simple," said Council Chair Julian E. Jones, Jr. "Helping people get the education they need to succeed is exactly what government ought to do."
"For people in my district, this announcement will be a true lifesaver," said 6th District Councilwoman Cathy Bevins. "Free college tuition will open up doors that otherwise would be closed. I am so proud to be a part of this effort."
"Both the Essex and Dundalk campuses of CCBC are important resources in my community," said 7th District Councilman Todd Crandell. "Making college more affordable to those who struggle to make ends meet is a very good thing."
To be eligible, students must live in Baltimore County and have an adjusted household income of $69,000 or less, which is the median income for Baltimore County residents. Students must have graduated from a public, parochial or home school within the past two years with a GPA of 2.5 or better and complete a federal financial aid (FAFSA form). Baltimore County College Promise students must enroll full-time and be college-ready. They must maintain full-time enrollment and a GPA of at least 2.5. The scholarship applies only to the student's first credential or degree.
Students who wish to learn more about the Baltimore County College Promise may visit the College Promise page on CCBC's website.
The County Executive will present his budget to the County Council on April 12. The County Council will vote on the budget on May 24.
Facebook Comments