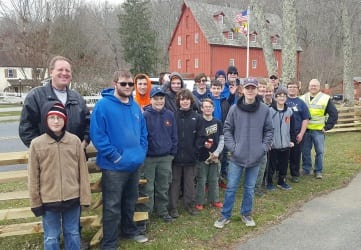 On Saturday, March 17, Nicholas Marks, an Eagle Scout candidate with Boy Scout Troop 124, completed his service project at the historic Jerusalem Mill Village in Kingsville.
Nicholas Marks led a crew of more than 30 volunteers who erected a 200-foot, split rail fence along Jerusalem Road.
The fence will improve safety by keeping pedestrians on the path instead of using the narrow road.
Advertisement

"The Friends of Jerusalem Mill are very pleased with this project, and thank all the Scouts who has helped improve this special place," said Rick Decker, president of the Friends of Jerusalem Mill.
Facebook Comments