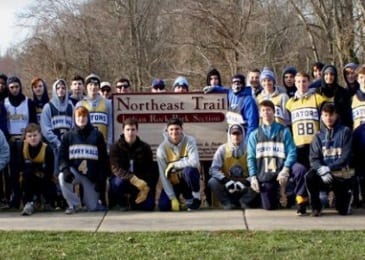 On Saturday, March 10, volunteers cleaned Perry Hall's Indian Rock Park, picking up enough garbage to fill more than 15 trash bags. The volunteers also repainted benches that had been marred with graffiti.
Councilman David Marks organized the second annual clean-up of the park, which stretches between Silver Spring and Ebenezer Roads west of Perry Hall High School.
A big boost in support was provided by the Perry Hall Men's Lacrosse Team, who provided dozens of volunteers for the project. Local residents Robert and Kathleen Ballard generously supplied paint, garbage bags, and other materials. Another local resident, Joe Norman, transported items to the dump.
"I would like to thank Robert and Kathleen Ballard, and all those volunteers who helped clean up this wooded area enjoyed by so many Perry Hall residents," said Councilman Marks. "I was particularly proud of the athletes from Perry Hall High School who gave up part of their Saturday morning to make a difference."
Advertisement


Facebook Comments