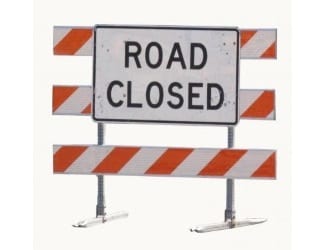 The high winds continued to wreak havoc on local roadways on Friday morning.
At just after 10 a.m., officials reported that the intersection of Harford Road at Mountain Road in Fallston had been shut down due to a downed tree blocking all lanes.
Another tree is down along Belair Road at Vale Road in Fallston.  All northbound lanes of Belair Road have been shut down.
Also in Fallston, the intersection of Friendship Road and Winsted Drive is closed to due a downed tree and wires in the roadway.
In Joppa, a downed tree is blocking the intersection of Philadelphia Road at Old Mountain Road.
Advertisement

Philadelphia Road is also shut down near Pauls Lane in Joppa due to a tree in the roadway.
In Parkville, a tree is down at the intersection of Putty Hill Avenue at Avondale Road.
In addition, along I-95, the Tydings Bridge and Hatem Bridge are in temporary closure due to high winds.
Crews are on scene attempting to clear the trees. There has been no estimate as to when the roads will be reopened.
Motorists should use an alternate route.
Facebook Comments