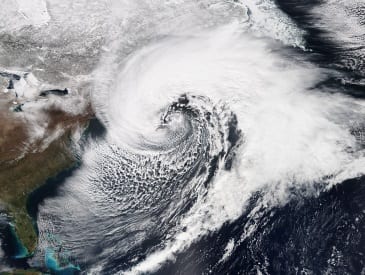 BGE crews continue to work to restore electric service to customers affected by Friday's powerful nor'easter storm that began moving through central Maryland overnight and continues to cause trees and limbs to come down on power lines and other electric equipment.
With wind gusts in excess of 60 miles per hour in the BGE service area still expected this afternoon and evening, it is likely additional outages will continue to occur. Based on the number of customers affected, this is the worst storm to impact the BGE region since 2012.
Crews are working to restore service as safely and as quickly as possible, and are working in around-the-clock shifts until all customers are restored.
BGE says that outage durations could be affected by hazardous conditions, including downed trees and large limbs that must be removed from power lines before repairs can be completed. Additionally, operation of bucket trucks for overhead repairs is limited in high winds.
As of 3:00 p.m. on Friday afternoon, BGE had restored power to more than 76,000 customers, while an additional 150,000 customers remain without power.
Advertisement

BGE is asking all customers, including those with smart meters, to report their outage. Outages may be reported online at BGE.com and via BGE's free mobile app available at the Apple Store or Google Play. Customers may also report outages and downed wires by calling 877-778-2222, on BGE.com and through mobile devices.
BGE's restoration priorities are public safety and critical care facilities, such as 911 centers, hospitals and pumping stations. Then restoration is generally scheduled so that the greatest number of customers can be restored as quickly and as safely as possible. However, in cases of extended power outages, consideration is also given to customers who have been without service for the longest.
Facebook Comments