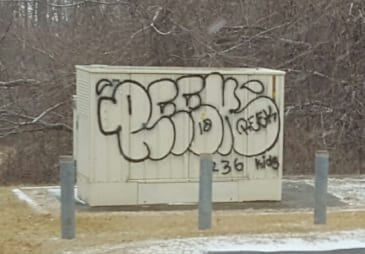 A familiar problem has resurfaced in Perry Hall/White Marsh.
In 2017, local police arrested two juveniles who had spray-painted the word "REEK" on walls and utility boxes throughout Perry Hall and White Marsh.
On Sunday, Baltimore County Coucilman David Marks said that the "REEK" artist had spray-painted a utility box along Joppa Road near Bowline Road (21236).
There has been no word as to whether this was done by the same artist or perhaps by a copycat.
Police have been alerted.
Advertisement

Facebook Comments