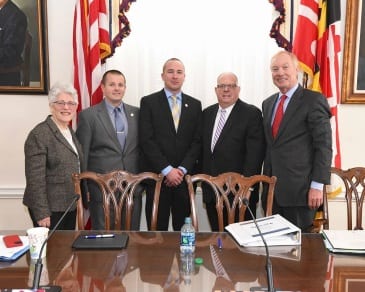 The White Marsh Volunteer Fire Company got a boost in their fundraising efforts this week.
On Wednesday, WMVFC Captain Rick Blubaugh and President Kevin Palmer attended the State of Maryland Board of Public Works meeting to testify on behalf of a state bond bill that would provide funding toward the construction of their new fire station.
The board, which consist of Governor Larry Hogan, Comptroller Peter Franchot, and Treasurer Nancy K. Kopp, approved the $75,000 bond bill.
Construction began on the new station back in September.
Advertisement
WMVFC has grown to over 200 members and has outgrown its 68-year-old facility on Ebenezer Road.
The current station was built in 1949. Located between the CSX railroad tracks and Philadelphia Road, approximately 11,000 cars pass by WMVFC on a daily basis.
The station fields in excess of 3,600 calls per year.
The new facility will be built on land donated by General Motors Baltimore Operations.
It will be located at 10301 Philadelphia Road in White Marsh.
Wednesday's bond bill marks the second such bond bill approved for the construction of the new WMVFC station totaling $225,000 of state funds.
Facebook Comments