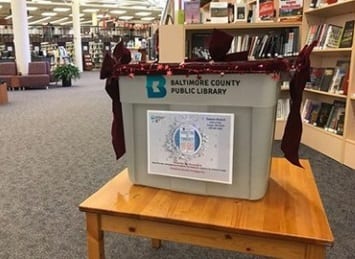 The Baltimore County Public Library's 2017 Toy Drive got under way on Friday.
The annual drive helps less fortunate children and families in the local community.  Library patrons can bring a new, unwrapped toy to any branch or special program between Friday, November 17, and Wednesday, December 6.
The gifts will be donated to various local charities benefiting the community.
"While BCPL strives to provide the gift of opportunity each and every day to the citizens of Baltimore County," said Director Paula Miller, "it's exciting to assist in providing children with something special and new for the holidays."
See below for a list of beneficiaries for each of BCPL's 19 branches.
Story continues below
Arbutus Branch
Southwest Emergency Services (SWES)
Catonsville Branch
Catonsville Emergency Assistance Network
Cockeysville Branch
Prologue, Inc.
Essex Branch
St. John's Church in Essex
Hereford Branch
Hereford Community Food Bank
Lansdowne Branch
Southwest Emergency Service (SWES)
Loch Raven Branch
Turn Around
North Point Branch
Family Crisis Center of Baltimore County
Owings Mills Branch
Community Crisis Center of Reisterstown
Parkville-Carney Branch
House of Ruth
Perry Hall Branch
Family Crisis Center of Baltimore County
Pikesville Branch
The Judy Center
Randallstown Branch
Night of Peace Family Shelter
Reisterstown Branch
Sarah's Hope at Hannah More
Rosedale Branch
Eastern Family Resource Center
Sollers Point Branch
Turner Station Conservation Team
Towson Branch
Prologue, Inc.
White Marsh Branch
Eastside Family Shelter
Woodlawn Branch
Night of Peace Family Shelter
Facebook Comments