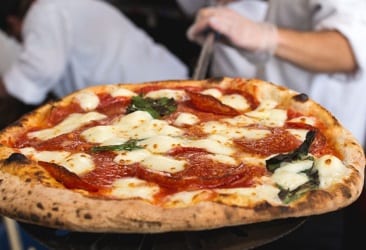 MidiCi The Neapolitan Pizza Company, an authentic Neapolitan restaurant with a mission to bring friends together, opens its newest location at The
Avenue at White Marsh on Saturday, November 4, 2017 at 11 a.m.
MidiCi offers high quality, delicious Neapolitan pizzas made with non-GMO dough and serves other Italian culinary delights including salads,
burrata, signature desserts and local craft beer & wine.
To celebrate the opening, MidiCi will unite pizza lovers with a 2-day grand opening celebration on November 4 & 5 th , complete with free authentic Neapolitan fare the way Italians invented it 300 years ago.
"The Avenue at White Marsh provides us with a great location to build our brand promise, to bring friends together over Neapolitan Pizza." said restaurant co-owner, John Preston Brown.
"From the moment our guests step foot in MidiCi they will fall in love with the concept – from the food, to the people and ambiance, to the very values of the brand, its' just a great fit for White Marsh," said Brown.
"We know that once the community gets a chance to try MidiCi, they'll want to share their experience with friends and that's what we're all about, bringing friends together," said Santiago Vaca, MidiCi co-owner.
MidiCi serves traditional Neapolitan cuisine using fresh, natural, ingredients including making their non-GMO dough in house each day. Guest friends can select from traditional and signature menu options or create personalized Neapolitan pizzas in the open, center-staged bustling kitchen, also known as "the heart," all baked to perfection in imported Italian hand-made wood-fired ovens.
Story continues below
Acclaimed Los Angeles-based restaurateurs Peppe Miele and Mario Vollera hand-crafted the menu with authentic Italian offerings – from gourmet appetizers, artisan burratas, non-GMO quality salads, and authentic Neapolitan pizzas to a diverse selection of quality craft beers, wines and cocktails. MidiCi provides pizza lovers with an upscale dining atmosphere, designed by acclaimed hotel and restaurant architect and designer Sam Marshall, while maintaining the ease and affordability of a casual restaurant concept. The space beckons guests to visit and make memories over a gourmet meal next to a signature indoor tree. MidiCi invented and trademarked "fast-fine," fine dining made faster.
MidiCi locations across the U.S. have amassed rave reviews and an average 4.5 out of 5-star rating on the acclaimed Yelp website consistently.
MidiCi is located at The Avenue at White Marsh, 8125 Honeygo Boulevard and is open Sunday- Thursday 11 a.m. – 12 a.m., Friday & Saturday 11 a.m. – 2 a.m.
For more information, please visit www.myMidiCi.com or follow on social media www.facebook.com/MidiciWhiteMarsh and Instagram @MidiciWhiteMarsh
Grand Opening Event: Free Margherita Pizza Grand Opening
Day: Saturday & Sunday, November 4 & 5th
Time: 11 a.m. – Close. (Saturday til 2 a.m., Sunday til Midnight)
Details: Free 12" Margherita Neapolitan Pizza. Dine-In Only. Additional toppings extra. Limit one per guest per day.
Facebook Comments