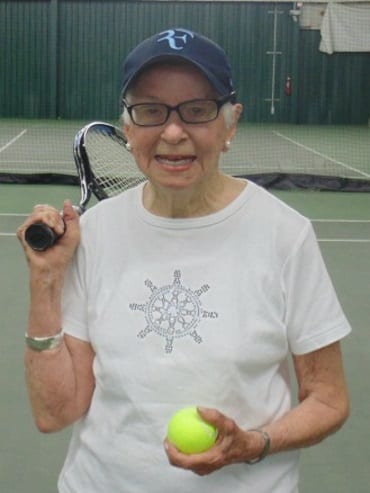 When Evelyn Schroedl was growing up, her favorite tennis pro was Helen Wills Moody.
Don't know the name?
Helen Wills Moody was the number one rated women's tennis player in the world in 1927.
Her fan, Evelyn, was 10 years old.
We caught up with Evelyn Schroedl shortly after one of her many 100th birthday celebrations. A vivacious and animated tennis advocate and player, Evelyn doesn't just enjoy watching the sport and attending the U.S. Open, she plays in a weekly game at the Baltimore County Recreation and Parks Northeast Regional Recreation Center (NERRC) in Parkville.
A longtime spectator, Evelyn is a relative newcomer to playing the sport. When she retired from her career as a Goucher College registrar in 1981, she started tennis lessons at what is now the Community College of Baltimore County Essex campus.
"I've had such marvelous experiences playing tennis," she shared. "Tennis has been a wonderful social opportunity to meet and play with lots of people over the years. I even played a Goucher College professor," she reveals with a smile.
Tennis at NERRC is now a weekly event for Evelyn. Watching the competition take place with friends Nancy Tilotta, Clara Hall, and Carol Koh, Evelyn's serve and rallies were on, she displayed a fine forehand and a smooth return. With a touch of macular degeneration, Evelyn confided that it isn't always as easy to see the ball. She encourages all to "give it a shot…you don't have to be a star!"
On keeping fit to be 100
Story continues below
"I was 78 when my husband died and I thought life was over. But my first time ever in a senior center, Seven Oaks Senior Center, saved my life." Being with others and active in programs gave her focus and meaning during that life transition and beyond.
While tennis is important in the life of this 100 year old, Evelyn also plays bridge three nights a week, paints one night a week, shoots pool, reads, watches television and is active in charities.
"I've never thought of taking good care of myself, it just happened" said Evelyn. A resident of Oak Crest Village, she recalls taking a weight training course with ten men.
"It was a great time," she states with a huge smile on her face. "The gym, on the other hand, is boring."
What's Evelyn Schroedl's secret to living and thriving at 100?
"Because I was born in 1917," she replied with a contagious giggle.
Watch Evelyn rappel down a 27-story building to help raise funds for kidney research below. Of course, this was much earlier in her life – at age 96.
Facebook Comments