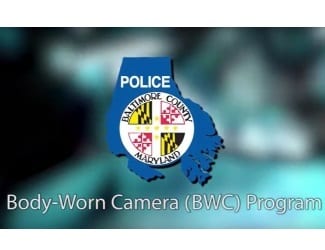 Baltimore County Executive Kevin Kamenetz announced on Wednesday that the county had successfully completed its aggressive schedule of equipping all uniformed police officers with body-worn cameras.
"Our police and information technology professionals implemented this important transparency initiative in a thorough and expedited manner," said Kamenetz. "I appreciate the concerted efforts of our many partners including the Fraternal Order of Police Lodge Number 4, State's Attorney Scott Shellenberger and Sheriff R. Jay Fisher. We received valuable input from many stakeholders including the NAACP, ACLU, National Alliance on Mental Illness, and representatives from the Latino community and other community groups."
In the fall of 2015, Kamenetz and Police Department leaders decided to move forward with deploying the cameras, despite recommendations of a workgroup to wait and continue studying the complex legal and operational issues related to the cameras, data storage and privacy.
"Waiting wasn't a good option because these cameras are such a valuable tool in strengthening the relationship of trust and understanding with the community. By objectively capturing the actions of officers in the field, they improve transparency and help reduce complaints against officers and facilitate more efficient, effective prosecutions," Kamenetz said.
In October of 2016, Baltimore County acted to accelerate the full implementation of the body camera program by fourteen months by increasing overtime funds to triple the rate of officer training.
"The body-worn camera program has already proven helpful in a number of arrests and prosecutions, and as we move forward we are committed to adapting our program as best practices and new issues may evolve," said Police Chief Terrence B. Sheridan.
"Body cameras are a valuable law enforcement tool that helps to protect officers and the public alike, and I think that County Executive Kamenetz was wise to move forward quickly with equipping our officers," said County Council Chairman Tom Quirk.
Story continues below
Program Costs
The first five years of the program will cost $7.1 million. That includes $1.25 million for the cameras and related equipment and $5.9 million for maintenance and storage. The annual cost of running the BWC program is estimated at $1.6 million, including ongoing officer training and the cost of hiring at least 21 additional full-time personnel in several departments to manage the program.
Video Storage and Access
Since the Body Worn Camera program was initiated in 2015, Baltimore County has processed more than 250,000 recordings including 45,000 hours of video and has transferred more than 79,000 files to the States Attorney's Office (67,000 videos and 11,800 photographs).
Storage and maintenance of massive amounts of video, and responding to public information requests are challenges requiring dedicated human resources support. Baltimore County's implementation program included the hiring of additional IT support staff, evidence specialists, criminal records processors, forensic specialists, attorneys, training personnel and public information specialists.
Public Information Laws
Body camera video is treated the same as any other public record, subject to release under the Maryland Public Information Act and other relevant laws. Video footage of incidents also assists in resolving investigations by insurance companies, attorneys, the Motor Vehicle Administration and others through the Maryland Public Information Act.
The program includes public outreach to ensure that citizens are aware that these videos are public records, and that citizens as well as police will be portrayed.
Facebook Comments