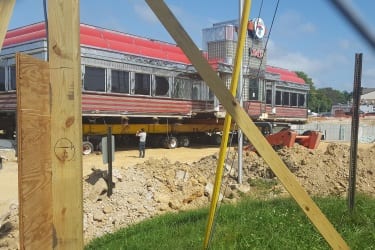 UPDATE: A re-opening date has been set – click here for details.
Original story below…
——
A popular local diner is preparing to roll to its new destination.
On Tuesday morning, the Double-T was placed on wheels in preparation for the big move.
The Double-T Diner closed close on June 10 to allow for the reconstruction of the Joppa/Belair Road corner.
The diner will now be located next to Bill's Seafood at Belair and Brookfield Roads.
A CVS Pharmacy will be built at the current diner location.
An arrangement was negotiated to preserve the diner, move it east, and improve the entire intersection, complete with improved landscaping and aesthetic features.
Local officials say that the arrangement preserved more than 40 jobs at the location.
The Double-T Diner is expected to reopen in late 2017 and the new CVS Pharmacy will open in early 2018.
Facebook Comments