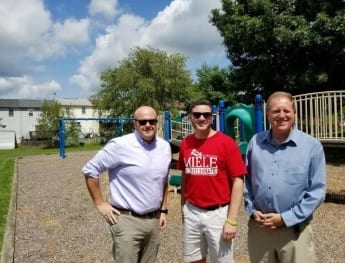 Following a request from Delegate Christian Miele and Councilman David Marks, Baltimore County has replaced the swing sets at Oakhurst Park in Perry Hall.
The swing sets were missing, so neighbors asked Delegate Miele to help get a new set installed. Delegate Miele worked with Councilman Marks to expedite the replacement swings.
Oakhurst Park is located adjacent to Pikehall Place.
"I am pleased we were able to get these swings replaced so quickly," Delegate Miele said. "It was a priority for the families I have met in this area of the Seven Courts Drive corridor."
Delegate Miele was joined by Councilman Marks and Delegate Joe Cluster in inspecting the improvements.
"I would like to thank Delegates Cluster and Miele for working with me to improve Perry Hall's park system," Councilman Marks concluded. "Since 2010, four new parks have opened in Perry Hall, and it requires teamwork at all levels."
Facebook Comments