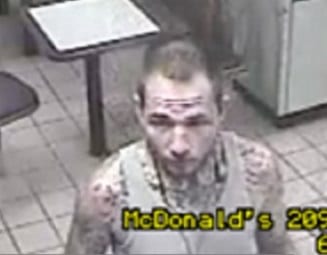 UPDATE: Police say they have identified and arrested this suspect.
Original story below…
——
Police in Baltimore County are seeking the public's assistance in identifying a suspect who brutally assaulted a man he'd just met.
At around 11:30 p.m. on June 3, police responded to Franklin Square Hospital where the victim was being treated for serious wounds to his face and body.
Police determined that the victim had been eating at McDonald's at 2119 Eastern Boulevard in Essex with a friend around 10:30 p.m. The victim initiated a conversation with another patron, the suspect, who became irritated at some point during their conversation. The victim attempted to diffuse the situation by leaving.
Moments later, as he was walking on Kingston Road near Firethorn Road, the victim was approached and attacked by the suspect, rendering him unconscious.
Advertisement

Police were able to obtain surveillance video of the suspect, who returned to the McDonald's after the assault to clean himself up with napkins (video below).
Anyone who recognizes this suspect or has any information regarding this crime is asked to contact detectives of the Essex Precinct Investigative Services Unit at 410-887-0230.
Facebook Comments